Comcast to Add Netflix to Service Packages, Handle Billing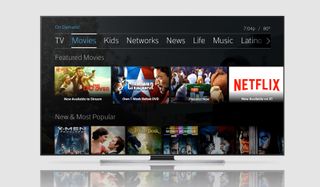 Expanding on a business partnership that started with an integration on X1 set-top boxes, Comcast and Netflix have broadened the partnership in a way that enables Comcast to offer Netflix in its subscription packages.
They said a variety of initial offers with Netflix included will become available this month, and that those offers will vary by market and be open to new and existing customers. Additionally, Netflix-related billing will be handled directly by Comcast and included in the customer's monthly statement.
Comcast brought Netflix on X1 boxes back in 2016, integrating the OTT-delivered subscription VOD service with its search function, including linkages to the X1 voice remote. Comcast said nearly 50% of its X1 customers are actively using Netflix on that platform.
They also noted that Netflix has "become one of the most popular voice searches and highly-viewed services" on the X1 platform, and, in turn, that X1 has "quickly become the most used platform for Netflix viewing."
Netflix content is also being featured in Comcast's latest Xfinity Watchathon, which gets underway on April 16 and is offering a subset of content, including some Netflix original series, to Comcast's internet-only subscribers.
RELATED: Comcast Streams Netflix 4K Fare to X1 Boxes
Roughly 60% of Comcast's 21.3 million residential pay TV subs are on X1.
Comcast is pushing ahead with a more tightly integrated relationship with Netflix that includes billing and package pricing amid a trend that has seen mobile service providers bundle in SVOD services, including T-Mobile (with Netflix) and Sprint (with Hulu). AT&T, meanwhile, has been active with promotions that tie its mobile service with its DirecTV Now OTT TV service.
Comcast and Netflix have yet to detail how they will price and package Netflix into service offers, so it's not yet clear if Comcast intends to weave Netflix into packages that feature its relatively new Xfinity Mobile offering.
RELATED: Xfinity Mobile Starting to See 'Real Momentum'
The new billing and packaging agreement also marks another partnership between Netflix and Comcast, which had previously waged a battle over peering before striking a paid interconnection agreement in 2014.
Netflix is one of a growing number of OTT services that Comcast has integrated with X1. Others include Sling TV (initially for its slate of international programming), NPR, iHeartRadio, YouTube, and Pandora.
RELATED: Comcast Streams Sling TV's International Programming Slate to X1 Boxes
"Netflix offers one of the most popular on demand services and is an important supplement to the content offering and value proposition of the X1 platform," Sam Schwartz, chief business development officer at Comcast Cable, said in a statement. "Netflix is a great partner, and we are excited to offer its services to our customers in new ways that provide them with more choice, value and flexibility. The seamless integration of Netflix with the vast Xfinity entertainment library on X1 present a unique and comprehensive experience for customers."
"Our partnership with Comcast on Xfinity X1 has brought easy access to Netflix for our mutual customers," added Bill Holmes, global head of business development for Netflix. "By speaking into or browsing with the X1 remote, millions of customers have found the perfect thing to watch on Netflix. We can't wait to introduce more X1 customers to Netflix with Xfinity's new packaged offers."
The smarter way to stay on top of the multichannel video marketplace. Sign up below.