CNN Plus: Everything You Need to Know About the Cable News Giant's Short-Lived DTC Play
A complete look at the 'global news, information and lifestyle subscription streaming service,' set to launch Tuesday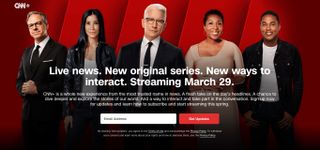 (Image credit: CNN)
A month after its launch, CNN's highly anticipated direct-to-consumer streaming play, CNN Plus (aka CNN+), has shuttered.
The cable news net launched the service Tuesday, March 29, just over a week before CNN parent WarnerMedia's merger with Discovery closed.
What follows below was originally published March 28, a day before the doomed streamer's launch.
The highly anticipated launch of cable news leader CNN's direct-to-consumer streaming play, CNN Plus (aka CNN+), has finally arrived, debuting Tuesday, March 29.
"CNN invented cable news in 1980, defined online news in 1995 and now is taking an important step in expanding what news can be by launching a direct-to-consumer streaming subscription service in 2022," said former CNN chief Jeff Zucker, touting the subscription news streaming service last year ... before abruptly announcing his resignation in February amid a scandal involving a relationship with a subordinate.
Also: For Cable News, Real Disruption Finally Arrives
Oh yeah, watching parent company WarnerMedia launch CNN Plus is a little like seeing comedian Chris Rock try to move the Oscars along after getting slapped by Will Smith. Things are a little awkward right now!
For starters, CNN Plus will likely launch without support from the biggest connected TV platform, Roku. CNN sources said they're working a deal with Roku, but it probably won't be available on a platform with 60 million active users on at least its first day in the market.
Out of the gate, CNN Plus also lacks support from both Google CTV platforms, Google TV and Android TV. Also unsupported are proprietary smart TV operating systems from Samsung and LG, as well as video game consoles Sony PlayStation and Microsoft Xbox.
Also: CNN Plus to Likely Launch Sans Roku Support
WarnerMedia said it's working on getting those issues squared away, but the turmoil goes well beyond app support.
CNN was already reeling from the scandal caused when Chris Cuomo, the second most popular personality on the network, decided to -- in clear violation of journalistic standards pretty much anywhere -- help out his brother, former New York Gov. Andrew Cuomo, who as in the middle of his own ruinous scandal. Chris Cuomo was fired in December ... leading to a mushrooming investigation that eventually also consumed Zucker, a popular leadership presence within CNN.
Also: Now What For CNN Plus Amid Jeff Zucker's Hasty Departure?
Of course, that's just the tip of the ol' iceberg, with AT&T in the closing stages of spinning off WarnerMedia in a $43 billion deal that will merge it with Discovery, putting the entire "Warner Bros. Discovery" enterprise under the control of Discovery CEO David Zaslav.
CNN cable news ratings surged amid the virulent opposition to former President Donald Trump. With Trump exiled to Mar-a-Lago, Fla., back in January 2021, CNN linear ratings have been way, way down for more than a year now.
Even before Zucker left in February, TMT mogul John Malone, who sits on the Discovery board, had already signaled that we can expect a more centrist edge to CNN's coverage under Zaslav.
Indeed, CNN's tone -- viewed by many as a counterweight to the far right agendas of Fox News and Newsmax -- is set to change, but so could WarnerMedia's financial commitment to CNN Plus.
The conglomerate reportedly plans to spend $350 million to launch CNN Plus in 2022. With Warner Bros. Discovery in debt to the tune of around $55 million, who knows how much will go into the platform beyond this year.
Of course, there's a motto in the news business that says something to the effect of, "May you launch new media technology ventures in interesting times." OK, the saying doesn't go like that, but work with me here ... the Russian invasion of Ukraine, the wacko QAnon movement and a highly polarized society in general provide the kind of news energy that could make this all work spectacularly ... or not.
So Who's In Charge of CNN Plus?
Andrew Morse, the Cornell-educated former ABC News executive, who has been with CNN since 2013 and previously served as chief digital officer for CNN Worldwide, will oversee the new DTC initiative.
Reporting to Morse as general manager will be Alex MacCallum, CNN Worldwide's head of product. A former New York Times digital executive, she'll oversee product development, customer acquisition and marketing, strategy and growth, and revenue operations.
Veteran CNN producer Rebecca Kutler will serve as senior VP and head of programming for CNN Plus, overseeing development, production and programming of live and taped shows.
Meanwhile, Courtney Coupe will serve as senior VP of content strategy and operations for the new subscription streaming service, handling strategy, curation and programming of content, as well as community management.
"March 29 will be an important day in the history of CNN and CNN Plus will be a critical part of our future," said Morse, in a statement. "I am so proud of the work our teams have done to ensure our world class journalism and storytelling comes to life on this new platform. We can't wait for our subscribers to experience it."
So what will the app look like? What CNN news personalities will populate it? Who are the executive leaders? How much will it cost? What platforms will it run on?
What's on CNN Plus?
Like all media companies rooted in linear broadcast and cable channels, CNN and WarnerMedia must do the familiar monkey dance of building OTT audiences while not too badly cannibalizing its pay TV user base.
CNN Plus will launch with more than 1,000 hours of on-demand content, most of it culled from the live, linear channel.
This linear-spawned library "doesn't encompass everything that's ever ran on CNN, it's just kind of the best of the best," a network press rep explained while walking us through a demo.
For the most part, the CNN Plus experience will feature the personalities already familiar to CNN watchers. But shows will be distinct to the SVOD service. And unlike, say, Paramount Plus, which gives you a live, linear feed of the CBS TV network, the only way you'll be able to stream CNN linear is via the ol' TV Everywhere authentication method.
In addition to exclusive content not found on the linear channel, CNN power users will appreciate interactive features, such as "Interview Club," which allows users to ask questions live in real time every day to various newsmakers and influencers.
So, without further adieu, at launch, here are CNN Plus' schedules for both daily and weekly programs. Note that all log lines have been provided by CNN.
Weekday, Live Daily Programming Schedule:
> 7:00 AM EST: 5 Things with Kate Bolduan – Need to get up to speed quickly? CNN's most popular newsletter and podcast is expanding to a new morning show hosted by CNN Anchor Kate Bolduan 5 Things gives you the five stories you need to know to start your day. Grab a coffee and count down the top five essential stories of the morning with us.
> 8:00 AM EST: Go There – Go There takes you to the front lines of breaking news. Join the crew and go behind the scenes with CNN's reporters and correspondents stationed around the world. We have cameras in every corner of the planet. This is your live, all-access pass to the most essential and visual news stories of the day. Currently available exclusively on CNN Digital properties, Go There's award-winning reporting has been recognized across the industry and holds the title of the most watched news video on Facebook with live reporting from Wuhan, China in January 2020.
> 9:00 AM EST: Big Picture with Sara Sidner – Big Picture is an in-depth look at the most important and interesting story of the day, hosted by CNN's Sara Sidner. Sidner hosts a deep-dive conversation featuring CNN's award-winning reporters and expert guests. Zoom out and contemplate the broader scope of today's top story and how various pieces of the puzzle connect.
> 11:00 AM EST: Reliable Sources Daily – From New York to Hollywood to Silicon Valley – CNN's Chief Media Correspondent and Anchor Brian Stelter brings together all the headlines in the media on Reliable Sources Daily – a new expansion of his nightly e-newsletter, podcast and Sunday show on CNN. He'll take a critical look at the media, how the news is made and why it matters to you. This show is your most reliable source in the quickly evolving world of media, business and entertainment.
> 4:00 PM EST: The Source with Kasie Hunt – Get a fresh take on politics with CNN Anchor and Chief National Affairs Analyst Kasie Hunt, as she travels around the nation's capital to dissect the power structures behind policies impacting communities across the country. Join Hunt for exclusive, illuminating interviews, in-depth analysis and straightforward insights for both seasoned news junkies and political novices.
> 5:00 PM EST: The Global Brief with Bianca Nobilo – The Global Brief with Bianca Nobilo is an incisive look at the most important international news stories in the last 24 hours – providing unrivaled depth and quality for busy CNN+ viewers in a fast-moving world.
> 6:00 PM EST: Who's Talking to Chris Wallace? – Join CNN+ Anchor Chris Wallace, one of the most highly-respected journalists of our time, in candid conversations with prominent individuals across the spectrum of news, sports, entertainment, art and culture. Wallace moves outside of politics to include his wide range of interests – from interviews to conversations, and from headlines to smart, sensible, in-depth discussions. He seeks light, not heat. *New episodes Monday-Thursday
> 7:30 PM EST: The Newscast with Wolf Blitzer – CNN Anchor Wolf Blitzer gives it to you straight, hitting the headlines you need to know on this traditional evening newscast with a sleek, modern twist. The old-school nostalgic approach featuring original reporting from around the world, investigations and consumer focused stories that matter helps put the latest headlines in perspective.
Weekly Programming Schedule:

March 29:
> Anderson Cooper Full Circle – CNN Anchor Anderson Cooper hosts a twice-weekly show that features Cooper interviewing authors, entertainers, mindfulness experts and community leaders, while highlighting the stories happening outside of Washington. Previously available exclusively on CNN Digital properties, the show also answers viewer questions and shares uplifting stories submitted by fans. *New episodes Tuesdays and Saturdays
> Boss Files with Poppy Harlow – What does it take to be the boss? CNN Anchor Poppy Harlow gets the answers from the biggest names in business. Sit in on intimate conversations and confessions from today's most influential leaders and learn how personal and professional struggles helped them forge a path to success. *New episodes Mondays for first season
Jake Tapper's Book Club – Read between the lines with CNN Anchor and Chief Washington Correspondent Jake Tapper as he interviews a diverse roster of newsmaking authors and a few of his all-time favorites. Find out the story behind their bestselling and critically acclaimed books and add more to your reading list along the way. *New episodes Sundays
> Parental Guidance with Anderson Cooper – New dad, CNN Anchor Anderson Cooper gets parenting advice from experts as he navigates life as a working parent. Anderson confronts everyday challenges from sleep schedules to screen time to audience questions about relatable daily struggles. *New episodes Wednesdays
> No Mercy No Malice with Scott Galloway – Serial entrepreneur, bestselling author and business professor Scott Galloway isn't afraid to make bold predictions and hold the powerful accountable. His unapologetic take is essential viewing for anyone interested in how business, tech and society intersect. Prepare to be enlightened and entertained. *New episodes Tuesdays
April:
> The Don Lemon Show – Make your voice heard in this weekly talk show, a brand new format for the news veteran. There are no limits to the conversation as CNN Anchor Don Lemon and his studio audience take on the most talkable news stories each week. *New episodes Fridays
> Rex Chapman – He's celebrated the highs of NBA stardom, rebounded from the lows of opioid addiction, and reinvented himself through social media. If anyone can find the silver lining in today's toughest headlines, it's Rex Chapman. He brings heart and positivity to conversations with celebrities, athletes and everyday heroes. *New episodes Mondays
May:
>Cari & Jemele: Speak.Easy. – sh – Acclaimed journalist and CNN Anchor Audie Cornish has 20 questions for her guests, who range from newsmakers to cultural icons. Her passion for the art of storytelling will be on display with in-depth conversations that bring a fresh approach to the stories and issues that matter.
> Cari & Jemele: Speak.Easy. – Co-hosts Jemele Hill & Cari Champion toast and roast the stories that have everyone talking. From the biggest headlines in sports, politics and culture, they'll tell you how they see it.
How Much Will CNN Plus Cost?
CNN Plus will be regularly priced at $5.99 a month and $64.99 for a full year.
CNN is also promoting signups with what it calls the "deal of a lifetime" -- those who sign up in the first four weeks lock in a 50%-off rate of $2.99 a month. WarnerMedia is also offering a free seven-day trial of CNN Plus.
Users can sign up via this landing page when the service goes live on March 29.
Here's the big catch. CNN said on the eve of its launch that CNN Plus will launch on including Amazon Fire TV, Android phones and tablets and Apple devices (via the App Store on iPhone, iPad, Apple TV, Apple TV 4K and Apple TV HD).
CNN didn't mention Roku, which controls 60 million active users worldwide and is by far the biggest connected TV platform in the U.S.
The smarter way to stay on top of the streaming and OTT industry. Sign up below.
Daniel Frankel is the managing editor of Next TV, an internet publishing vertical focused on the business of video streaming. A Los Angeles-based writer and editor who has covered the media and technology industries for more than two decades, Daniel has worked on staff for publications including E! Online, Electronic Media, Mediaweek, Variety, paidContent and GigaOm. You can start living a healthier life with greater wealth and prosperity by following Daniel on Twitter today!