Clyburn: A Voice for the Voiceless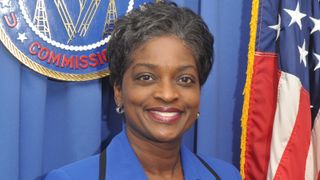 WASHINGTON — Democrat Mignon Clyburn is exiting the Federal Communications Commission after almost 10 years, the vast majority of those in the agency's majority, but she says she will continue to speak out for those on the other side of the digital and economic divide and about the importance of connectivity for everyone, regardless of race or economic status.
She was briefly chairman in 2013, after Julius Genachowski left and Tom Wheeler was unable to be confirmed due to a hold on his nomination. That made her the first woman to run the agency.
Her FCC service followed almost a dozen years on the South Carolina Public Service Commission (she chaired that agency, too). Public service is both in her DNA — her father, Rep. James Clyburn, is the assistant House Democratic leader — and in her title. Sen. Ed Markey (D-Mass.) has called her "a consumer champion without equal" as she advocated for closing the digital divide, promoted independent media voices and worked for strong network neutrality regulations and more reasonable phone rates for the incarcerated.
She has been a strong critic of deregulation and consolidation favored by many in the cable and broadcast industries. But the American Cable Association has also said that Clyburn had "no equal in understanding the value that independent providers deliver to their communities," while NCTA–The Internet & Television Association president Michael Powell called her a "strong advocate of the power of technology to close the digital divide."
A busy Clyburn — she twice had to reschedule this interview as she combined packing up with speeches and appearances — talked to Multichannel News about that legacy.
MCN: You didn't have to leave until the end of the year, or until your successor has been confirmed, so why are you leaving now?
Mignon Clyburn: I feel I can be more effective in speaking about the things I care about from the outside.
MCN: And those are?
MC: Inmate calling and lifeline and the Connect2Health Task Force, and trying to bring more certainty and clarity to connecting different parts of this country. You are right, I could have stayed, but it was time for me to move on, and I'm ready.
MCN: You were the first woman to lead the agency. What does that mean to you?
MC: It was an incredible honor and opportunity. It was a reflection of decades, or hundreds of years, of hard work by more than 50% of the population. I look at it not as a singular, first-person honor, but as a collective representation of women, and women of color, in this country. I am proud to go up on that wall and represent them. [Photos of past FCC chairs hang on the wall outside the agency's meeting room.]
MCN: Let's talk about some of the things you were passionate about. You see network neutrality as a diversity issue. What do you think the consequences of the rollback will be, assuming the congressional review to nullify it fails?
MC: I see this as a diversity and inclusion and opportunity issue. No. 1, I don't think enough attention has been paid to the potential negative impact on rural communities in this nation.
If they abandon Title II authority, then tell me what the future holds for hundreds of broadband providers that we support through the Universal Service Fund high-cost program? If someone were to challenge that because the FCC has abandoned Title II as the strongest legally sustainable authority to provision broadband services, then that infrastructure is at risk.
I visited Etsy not long ago. Their biggest fear is someone with a competing service having the ability to disadvantage Etsy's consumers or their services, or block or throttle or charge more by way of paid prioritization or tolls. Entrepreneurs don't have to have storefronts to get their products out to market.
Then there is rural health care and education. All of that could be potentially threatened if you don't have an open and engaged process where consumers are protected, where privacy is protected, where they don't have to worry about gatekeepers.
The majority has created a lot of uncertainty, a lot of friction, a lot of potential for depressing of investment and opportunity in the space by turning back what was a painstakingly involved process that sought to seek a balance enabling and protecting consumer interests and concerns. That was a difficult-to-achieve balancing act.
Broadband access is attached to just about everything we do at the FCC, all of which was put at risk with the repeal of net neutrality.
MCN: You said recently that the FCC was too fixated on infrastructure. But you have to have infrastructure to have broadband.
MC: You also have to have consumers in order to take advantage of it. I said "fixated and monofocal."
We need a multifocal approach, looking at our entire universal service construct, looking at not just the infrastructure side and the affordability side. This agency is supposed to be about enabling ubiquitous, affordable opportunities for all of our citizens. Now, all is not created equal for our communities. In rural communities, it will take more investment. In urban communities, where the infrastructure is there, if you have people who can't afford a connection their lives are not enhanced.
You can bring fiber to my doorstep, but if I don't have the $50 or $60 or $70 dollars a month to be connected, then it does me no good. That is a platinum technology to nowhere.
You can't be fixated on infrastructure and have all the incentives go there while you kill the lifeline program, the very program that allows these people to be connected. We are supposed to be providing those opportunities regardless of your race, or your background, or where you live. This agency can often be an enabler of opportunity, but monofocal policies ensure that the opportunities will be for those who already have the economic wherewithal, and the rest of us will be left behind. That is building tech canyons, not bridges.
MCN: Why did you oppose broadcast deregulation?
MC: Broadcasters have said to me over and over again that they embrace their role as first informers. Those who have an over-the-air presence are licensed by us. They have an obligation to serve their communities in addition to an obligation to their shareholders and others. So, I believe that the public-interest standard, which should be our North Star, is something we should reflect on and review every time an application for renewal comes before us, every time we review a transaction, every time there is a change or proposal that would modify regulations.
I can't discount what their prime directive is, which is serving in the public interest.
It is important that we don't rubber-stamp transactions without looking at what impact they have.
MCN: Is that why you advocated for those newsroom diversity studies, which were ultimately canceled over criticisms that they could translate to government influence over that coverage?
MC: Yes, that was why I was so passionate about those studies, which were so demonized.
We would have been able to see why there are only 12 African-American- owned full-power TV stations in this nation, why only 7.4% of full-power stations are owned by women, why less than 5% of Latinos own full-power TVs. Why is that? To just look at those numbers and recite them and do nothing else and not question whether or not what we have done from a regulatory standpoint contributed to that [is wrong].
I am not scared of information. Used correctly, it could inform and advise and ensure we have better policies. I can't underscore enough broadcasters' special obligation to promote diversity of voices and serve the local communities. Anything that jeopardizes that, I think we need to question.
MCN: The Rev. Jesse Jackson has told me more than once that media ownership is a civil-rights issue. You clearly agree.
MC: It shouldn't surprise you that moving from almost 20 years of public service to the private sector causes one to reflect a lot. One of the things we have been talking about is the Kerner Commission Report. [That 1968 presidential report on racism and rioting concluded: "Our nation is moving toward two societies, one black, one white — separate and unequal."]
The report said some pretty startling things when it came to the media and the lack of diversity in the newsroom, when it came to reporters and assignment editors and their seeming lack of clarity and inclusion when it came to covering certain communities.
Close your eyes, erase the date from the report, and a lot of those things still exist.
In South Carolina [where Clyburn is from and where she was general manager and publisher of local African-American-targeted newspaper the Coastal Times], there was an express blackout. The media associations in South Carolina got together and said: "We will not cover things going on in African-American communities. We will not cover any parts of the civil rights movement, because if we do not cover it, that is the same as if it didn't happen."
That underscores why it is so important for a regulatory agency that has oversight and influence to look at diversity and inclusion when it comes to ownership and newsroom configuration and when it comes to coverage. That is why it is so important that we discuss these issues and why there should be an agency that studies what they do, and what they should do.
MCN: You have said you want to be on the right side of history. Where do you think the FCC's current deregulatory initiatives will fall?
MC: I will just say that I am very comfortable with the positions I have taken. I came here saying I wanted to be a voice for the voiceless, saying I wanted to be an opportunity enabler and one who sought to close divides, not widen them. I will let history be the judge of how I have conducted myself and how I view the world.
Online Exclusive
MCN:Do you see the news media as still predominately reflecting a white, male perspective?
MC: I will allow the viewers to judge that. But I can say that if you were to look at employment reports, you would see that the numbers have gotten worse. What does that mean in terms of what is covered and what voices are heard? If we just ignore the numbers and rubber-stamp renewals and transactions, we have done everyone a disservice.
MCN: The American Cable Association said you have no equal in understanding the value independent cable providers deliver. Talk about the value of independent voices.
MC: My goodness, I guess everything I have said, from talking about the Kerner report to looking at independent programmers: It is why I pushed for the notice of inquiry on independent programming and looking at the most critical stumbling blocks when it came to being able to get their programming carried.
All of this is important in terms of ensuring the great, rich diversity of our nation is better enabled. And if there are stumbling blocks we have an obligation to look at that. Like those unfair most favored nation clauses. We concluded in the [notice for proposed rulemaking] that such contracts were high barriers to opportunity.
That has been sitting for quite some time. It is a problem in the marketplace that could be solved, but you have to have a willingness to do so.
MCN: What else can create opportunity?
MC: One thing that has not had the result I thought it would have are digital subchannels, with stations having up to eight channels. More partnerships could increase diversity and inclusion. The spectrum auction as well as the digital transition allowed for unique opportunities that, quite frankly, I don't see enough of.
But there needs to be a proper check and balance and that means we need data. We can't institute goals and rules and policies in a vacuum. We can't do anything without information, and if we don't do anything, then things get worse, not better.
MCN: What should I have asked you about, but didn't?
MC: I have been at odds with the majority on many issues and directions that I think do not strike the proper balance. But one thing we have agreed on is the goals of the Connect2Health Task Force [focused on leveraging advance tech for health care].
The task force is at the very beginning of what it can do and what it can create by way of partnerships and opportunities in this space. One of the more recent collaboratives was the partnership with the National Cancer Institute, University of Kentucky Markey Cancer Center, Amgen and the University of California–San Diego Design Lab.
What they are doing is going into the state of Kentucky, which has a high cancer morbidity rate. They want to leverage technology, information and connectivity to see if there are models that could be crafted to address the issue in those economically challenged areas.
So, if you were to ask me what I would most like to be remembered by …
MCN: Consider yourself asked.
MC: I did attempt to leverage what the world calls ICT — information communication technology — to try and see where things have not traditionally, historically, worked in persistent poverty areas and those areas that have not been uplifted like the bigger cities and richer communities. How we can leverage technology to address those chronic needs? The great byproduct that has come out of that Connect2Health task force is an incredible broadband mapping tool. I can't tell you the number of people who have said to me how much they use this to inform them as to where broadband is or is not, where the doctors are or are not, so the state and county appropriators can make critical decisions when it comes to serving and informing and connecting their communities.
Connectivity can be a game-changer for health, entrepreneurship and all of the other things that enrich and inform and provide for us. So when you hear me getting passionate or protective when it comes to privacy or people's ability not to have a gatekeeper when it comes to access to the internet, all those are motivated by knowing that connectivity is the key in the 21st Century.
If there are things standing in the way of the people who are most without, the divides will continue to widen and we will never have the opportunity to catch up.
We are at a critical moment in our nation's telecommunications, technology and opportunities history. And while everybody is fixated on 5G, there are people without 3G and 4G. So, if we don't look at what we can do to enable and improve those communities through good policy — through leveraging and partnering, not fighting the state and local communities talking about "pre-emption, pre-emption, pre-emption" instead of "inclusion, inclusion, inclusion" — then we have lost another opportunity to be a critical partner in connecting the nation, and that would be a shame.
MCN: Why do I feel I have not heard the last from you on that?
MC: Because you haven't.
Contributing editor John Eggerton has been an editor and/or writer on media regulation, legislation and policy for over four decades, including covering the FCC, FTC, Congress, the major media trade associations, and the federal courts. In addition to Multichannel News and Broadcasting + Cable, his work has appeared in Radio World, TV Technology, TV Fax, This Week in Consumer Electronics, Variety and the Encyclopedia Britannica.
The smarter way to stay on top of the multichannel video marketplace. Sign up below.
Thank you for signing up to Multichannel News. You will receive a verification email shortly.
There was a problem. Please refresh the page and try again.