Cable Hall of Famers Take Manhattan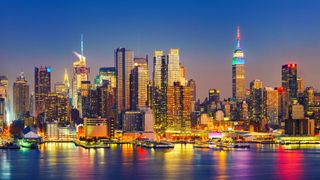 For the first time, the lights of Broadway will shine on The Cable Center's newest Cable Hall of Fame class.
Five executives and a groundbreaking television show — AMC's drug-dealer drama Breaking Bad — will share the stage of New York's Ziegfeld Ballroom on Wednesday, April 4, for the 2018 Cable Hall of Fame induction ceremony. Lending more star wattage to the festivities will be host Carla Hall, a popular cooking personality from ABC's The Chew and Bravo's Top Chef and Top Chef America.
Among the industry figures set to be enshrined are Nomi Bergman, president, Advance/Newhouse; John Bickham, president and chief operating officer, Charter Communications; Balan Nair, president and CEO, Liberty Latin America; Richard Plepler, chairman and CEO, HBO; and Neil Smit, vice chairman, Comcast Corp.
June Travis, a former NCTA executive, will also be presented with the group's Bresnan Ethics in Business Award. Breaking Bad creator, head writer and executive producer Vince Gilligan will accept Hall of Fame honors on the AMC show's behalf.
Nomi Bergman
President, Advance/Newhouse
Second-generation cable executive Nomi Bergman didn't intend to get into the family business. After graduating from the University of Rochester with a degree in statistics and economics, Bergman went to work as a systems consultant in Arthur Andersen & Co.'s consulting division. Bergman's father, Robert Miron, ran the Newhouse cable companies, and a cousin at parent company Advance/Newhouse encouraged her to join the larger organization's internal consulting group. As an analyst with Advance/Newhouse, Bergman worked on instituting best practices and operating efficiencies among the company's publications and cable divisions.
In the late 1980s, her group installed new accounting systems at company properties. Noticing that the various cable operations used a variety of billing systems, she recommended integrating them. She took charge of what would be a two-year project involving 50 system conversions. She became a cable nomad, setting up camp in each Newhouse location to oversee successive rollouts. The odyssey was an immersion in MSO field operations that convinced Bergman to make her professional home in cable at Advance/Newhouse. (The company formed a partnership with Time Warner Cable in 1995.)
Bergman adapted quickly to the architecture side of the cable business. Among her most satisfying achievements was being part of the launch of RoadRunner, Time Warner's broadband internet service. "Being a part of reinventing the purpose of a cable system … re-architecting service delivery, growing the team, was beyond exciting," she said.
Bergman helped launch sixth-ranked MSO Bright House Networks in 2003 and served as the company's president from 2007-16. Today, as senior executive officer with Advance/Newhouse companies, she focuses on corporate development and strategic partnerships.
The busy executive and mother of three daughters has been a force in a number of cable and community support organizations, and she remains actively involved with several. Her work on the board of Adaptive Spirit grew out of a mother-daughter activity that became an annual tradition. "Watching [U.S. Paralympic Ski Team members] embrace their disabilities as their star qualities and become exceptional athletes is incredibly inspiring," Bergman said. "It's a powerful metaphor for us all — about how to live our lives and be our best selves."
She believes in the value of kindness in all aspects of life. "People trust kind and caring leaders," she said, and feels these qualities helped her to cultivate dedicated fearless, and knowledgeable teams who felt empowered to win.
John Bickham
President and Chief Operating Officer, Charter Communications
John Bickham's career has taken him from the utility industry in Texas to the cable C-suite in Connecticut. Born in Corpus Christi, he graduated from Texas A&I — now part of the Texas A&M system — but had no idea where he would go from there. He landed at utility holding company Houston Industries, where he helped design and build coal-fired generating stations. In 13 years with the company, he was involved in utility regulation at the national and state levels. In the mid-1980s, the holding company became interested in cable and went into partnership with ATC. Bickham's accidental entry into the cable business was the start of a long, successful career.
Compared to the staid world of utilities, Bickham found cable "an immature business, unsophisticated from a business planning and construction standpoint. It was different, it was fun, and you were a lot closer to the cash register." Thirty years ago, "who knew the business was going to be what it is today? Today … we sell services that every home and business needs." In 1986, he co-founded KBLCOM, a cable company that partnered with ATC and owned cable systems in eight states. He left as president and chief operating officer of KBLCOM to operate Time Warner Cable's Los Angeles division, and advanced to executive vice president of TWC, overseeing the company's operations in North Carolina, South Carolina and Texas.
Bickham moved to Cablevision Systems in 2004 as president of cable and communications. He joined Charter as COO in 2012 and added president to his title in 2016 when the company's acquisition of Time Warner Cable and Bright House Networks closed. In the cable industry, local operations continue while the owners change; at Charter, Bickham has gotten reacquainted with cable systems that he previously led at KBLCOM.
The father of two grown daughters, Bickham enjoys spending time with his four-year-old grandson. And he travels the world in pursuit of game birds — to England, Spain and South America, as well as in the U.S.
Bickham advises the industry's future leaders to take every opportunity to learn the different aspects of the business, especially as companies grow and jobs become more tightly focused. "Don't limit yourself," he urged. "Don't ever get bored with what you're doing. Move around in your company; experience different things."
Breaking Bad
Television Drama Series, AMC, Vince Gilligan, creator
Only on cable could a series that starts with a cancer diagnosis and continues into the darkest corners of the methamphetamine industry find a home. Breaking Bad broke new ground in television drama and demonstrated the possibilities of innovative storytelling.
The series premiered on AMC in 2008 and ended in 2013. It tells the story of Walter White, a New Mexico chemistry teacher who, with two years left to live and a desire to secure his family's financial security, becomes a powerful meth manufacturer.
Series creator Vince Gilligan envisioned an approach that had never been tried in series television: a "show about change" that began with a definite end point in view. Gilligan is a TV fan who streams shows from the 1950s and '60s and observed, "The thing TV has done very well is tell an indefinite story — a story that can go on for 20 years [a la Gunsmoke or NCIS]. And the way to do that, from a writer's point of view, is not to put the characters through too many personal changes … I figured stasis had been tried with great success for 50 years, and something more dynamic in terms of character would be interesting. But that meant it couldn't last indefinitely." Gilligan was well aware that the concept of a finite series would be difficult to sell. "That's why I'm still amazed that Sony and AMC signed on. … You don't want to be told from the get-go, 'This thing probably won't last long enough for you to make your money back.' "
Not only does Walter White change, but unlike other TV heroes or anti-heroes, he changes for the worse, as the series title suggests. Legend has it that Gilligan pitched his idea to AMC as "turning Mr. Chips into Scarface." Another unusual approach: in the moral universe of Breaking Bad, actions have consequences. Ultimately, characters reap what they sow, and nobody gets away with anything.
Gilligan believes television drama continues to change, and he hopes it will continue to pursue shows designed for more than the same demographic sweet spot. Above all, he wants writers to be bold. "Don't copy off your neighbor's exam," he said. "Don't pay too much attention to the stories other folks are telling; tell a story that excites you."
Balan Nair
President and CEO, Liberty Latin America
"My life is 95% luck," said Balan Nair. "Making the most of opportunities takes a little bit of skill, but to get those opportunities [takes luck]. I'm a very lucky man." What Nair calls luck, others might see as destiny.
In his 11 years with Liberty Global, Nair has advocated focusing on software as the driver of cable's evolution and he's met the challenge of harmonizing products, services, workforce and networks across multiple countries, languages and regulatory environments. Named CEO of Liberty Latin America late last year, he is now focused on high-potential markets in Latin America and the Caribbean.
Nair grew up in Malaysia, coming to the U.S. in 1985 to study electrical engineering at Iowa State University. He met his wife at Iowa State — an event he believes was the greatest stroke of luck in a fortunate life. He began his career working on high-voltage power transmission, and discovered an aptitude for writing software. His wife worked at telephone company USWest in Iowa, and when she was transferred to Minneapolis, he followed and found work at a power research company. When another USWest transfer came up, this time to Denver, Nair switched from power to telco, and joined USWest himself. In more than 12 years with the company and its successor, Qwest Communications International, he rose up the leadership ladder to become chief information officer and chief technology officer.
With extensive telco experience under his belt, Nair decided to move on to the fast-growing internet world. He joined AOL as chief technology officer, overseeing technology, IT and network operations. The Nairs left Denver for AOL headquarters in Washington, D.C. Given his experience, Nair was well-positioned for an industry that saw its future in both areas. Liberty Global came calling in 2007, and the family happily returned to Denver.
As a cable industry newcomer, Nair saw a huge opportunity. He "immediately saw the advantage cable had over any other telecommunications business. We had better networks, better platforms and we were better suited for the transition to a software world. We also have a perpetual entrepreneurial spirit. The founding members [of the industry] are still involved, and our second-generation managers were trained by founders. That is very special."
Richard Plepler
Chairman and CEO, HBO
It's safe to assume that Richard Plepler is the only high-ranking cable executive whose entry into the industry came about through a chance meeting with a U.N. ambassador at a Chinese restaurant. To start at the beginning: Plepler grew up in the '60s in a politically active home where engaged, informed citizenship was paramount. "At the dinner table, you had to have read The Wall Street Journal and The New York Times, and you had to be prepared to talk about the world," he recalled.
After graduating from Franklin & Marshall College, he went to work for Sen. Chris Dodd (D-Conn.). From Dodd, he learned about building consensus and the notion that people can disagree without being disagreeable. "I think that informed the way I began to think about business, and I think it informs my leadership style," Plepler said.
Plepler next went on to work for a small media-consulting firm that specialized in crisis management. After a year, brimming with confidence at 26, he started his own strategy and production firm, RLP International, which would make films to help countries that wanted to improve their images. Cheerfully acknowledging his own youthful hubris, Plepler is quick to point out that he was RLP International's sole employee.
His big break came at a Chinese restaurant in New York in 1988, where then-Israeli ambassador to the U.N. Benjamin Netanyahu happened to be dining. "I went over to introduce myself, and I said, 'You have a huge problem in the U.S.' The first intifada had broken out, and Israel was being viewed negatively. I told Netanyahu, 'This needs to be put in a larger context, sir, and my company, RLP International, knows how to do that.' And by some miracle, he said, 'Come see me.' " The result of their subsequent meeting was a well-received documentary for PBS that explained the complexity of Israel's situation. A call from HBO's Michael Fuchs soon followed, inviting Plepler to join the network in 1992 as communications chief.
"From my first day [at HBO], I always felt like I was where I belonged," Plepler said. "The people I've observed who have done the best feel they're in the environment where they're meant to be. Be in the place where you feel passionate about the work, about the mission."
Neil Smit
Vice Chairman, Comcast Corp.
Growing up on a farm in Connecticut, Neil Smit didn't have a clear idea of what he wanted to be when he grew up, but he knew what he didn't want to do. Farming was at the top of that list; construction was second. "My father was in construction, and I didn't necessarily want to be the second generation in the construction business," he said. "I wanted to carve my own path." He entertained notions of becoming an astronaut, but after graduating from Duke University, he ended up on sea, air and land as a member of the legendary Navy SEALs.
From his five-and-a-half years as a SEAL, Smit learned important lessons that he applied to his subsequent business career. "The first thing you learn in SEAL teams is, it's all about teams," he said. "If you're not pulling together, you're pulling apart, and you do everything together as a team. The other thing is that you communicate very directly from day one. And finally, you're always developing your skills, your people, and you have to keep building new capabilities. More than anything, it's about the teamwork."
When Smit retired from the Navy as a lieutenant commander, he worked in hostage negotiations before moving into the corporate world. He held leadership roles at Nabisco and Pillsbury, and then moved to AOL and MapQuest. Along the way, he got to know Paul Allen, who invited him to join Charter Communications as CEO in 2005. Cable appealed to him. "The day-to-day diversity of things that we had to deal with was interesting," he recalled. "We were in the internet business, the phone business, the video business, and it was an ever-changing environment." Another plus: "The quality of the people was very high; there's still an entrepreneurial spirit in the industry," he said.
Smit joined Comcast Cable as president and CEO in 2010. He now serves as a vice chairman of Comcast Corp., working to develop future technology- oriented business opportunities. Active in his community, he recently left the board of trustees of Philadelphia Children's Hospital, and continues his work with the board of visitors for the Nicholas School of the Environment at Duke University. And his adventurous spirit remains strong. He enjoys boating, water sports and skiing, and recently took up ice driving with his son in northern Canada. "I'll try about anything," he said.
Bresnan Award Recipient
June E. Travis
June Travis retired from the cable television industry in late 1999. Since 1994, she had served as executive vice president and chief operating officer of the National Cable Television Association, the industry's principal trade association based in Washington, D.C.
Prior to joining the NCTA, Travis was president and chief operating officer of Rifkin & Associates, a Denver-based cable television operator. Before that, she served in several executive positions at American Television and Communications, the predecessor to Time Warner Cable.
Recalling the days when cable was a much smaller business, Travis said the industry's ethical core was apparent in the relationships between its leaders. The early entrepreneurs "were very competitive with one another, but if attacked from the outside, they circled the wagons and supported one another. The collegiality was palpable."
Starting her cable career as a secretary, Travis noted the admirable leadership qualities she saw practiced by industry role models. "I kept thinking, 'Gee, if I ever get into management, that's how I would like to manage, that's how I would like to be involved in the community, that's how I would like to give back.' "
Travis has served as an officer and board member of a number of cable television industry boards, including CommScope, NCTA (now NCTA: The Internet & Television Association), C-SPAN, Cable in the Classroom, TeleCorps and Women in Cable (now Women in Cable Telecommunications). She chaired the industry's political action committee, CablePAC, for nine years. She said such organizations made a tremendous difference to the industry's employees.
She has been active in a number of Colorado organizations including the Greater Denver Chamber of Commerce Board of Directors, the Colorado Forum, the Colorado Women's Forum, the National Jewish Center, Inter-Faith Community Services, Young Americans Center for Financial Education and the Dumb Friends League. She recently stepped down as chairman of the board of the Daniels Fund but remains on that board and also serves as a trustee for the Denver Center for the Performing Arts.
Travis believes in business leaders' responsibility to their communities. "It's huge," she said. "And it pays back a hundred-fold. If you are genuinely in the community, not for the recognition, but truly caring, and participating, and supporting the community, you can't buy that kind of customer respect."
The smarter way to stay on top of the multichannel video marketplace. Sign up below.
Thank you for signing up to Multichannel News. You will receive a verification email shortly.
There was a problem. Please refresh the page and try again.