Branded Content Leaderboard: For Big Brands, Tasty Makes a Delicious Partner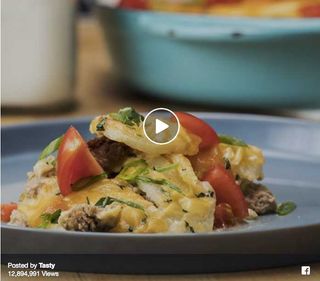 MCN has teamed up with social video analytics company Tubular Labs for a recurring look at how various content creators are deploying video to reach audiences online. In this brand-focused edition, a look at the success that big brands have had partnering with BuzzFeed's Tasty (note that this article focuses on the main Tasty property and does not include stats around the other spin-offs such as Proper Tasty, Tasty Vegetarian, etc). As you may imagine, for food and beverage companies in particular, working with Tasty is a natural fit.
In April, Tasty posted seven branded content videos on Facebook, racking up an impressive 39.5 million views. And although this publisher is predominantly known for its focus on food, four out of the six brands it worked with have been beverage brands: Milk (aka the California Milk Processor Board), 7UP, Don Julio Tequila and Seagram's 7.
Tasty and its partners have been getting into the warm-weather mood with multiple how-to videos that focus on summery drinks. And while there's the requisite installment of "cheesy pull-apart" goodness (a Tasty staple), it's a potato dish sponsored by Milk that has generated the most views (12 million).
Tasty's recent branded content videos ranked by total views:
1. Queso? Potatoes? Say no more. Serve this with a glass of real milk for the perfect dinner.
Partner: Milk
Facebook Views: 12 million
2. Cheesy Pull-Apart Bread With Tomato Soup Fondue
Partner: Cooper Cheese
Facebook Views: 10.8 million
3. What kid doesn't love mac 'n' cheese!?
Partner: Milk
Facebook Views: 5.5 million
4. 7UP Clubhouse Sangria
Partner: 7UP
Facebook Views: 4.1 million
5. Pretty Simple Drinks
Partner: Don Julio Tequila
Facebook Views: 3 million
6. Make this KILLER Turkey and Veggie Sheet-Pan Panini
Partner: Dave's Killer Bread
Facebook Views: 2.1 million
7. 7&7 Slushie
Partner: Seagram's 7
Facebook Views: 2 million
The smarter way to stay on top of the multichannel video marketplace. Sign up below.
Thank you for signing up to Multichannel News. You will receive a verification email shortly.
There was a problem. Please refresh the page and try again.