B+C Hall of Fame Speeches: Wonya Lucas, Hallmark Media CEO
Henry Aaron, Ted Turner and Rubye Lucas loom large in the Hallmark CEO's life story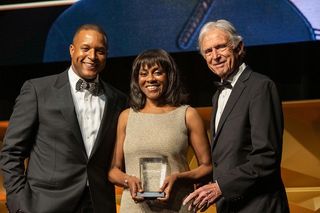 (Image credit: Mark Reinertson for Future)
Wonya Lucas, the CEO of Hallmark Media, is a longtime programming marketer and chief executive, who has the coincidental distinction of being named to two halls of fame -- the Cable Hall of Fame and the Broadcasting+Cable Hall of Fame -- on consecutive weeks at the same venue, the Ziegfeld Ballroom. We like to think the latter speech, given on May 3 at the B+C event, was the greatest -- like her uncle, Henry Aaron, was in baseball. Here is a lightly edited transcript of her induction speech:
Good evening! Good evening. Yeah. Call and response, y'all. I'm so excited to be here with you today and I am deeply humbled to join the Broadcasting+Cable Hall of Fame, which includes so many people that I have admired throughout my career. So I thank you. As the leader of Hallmark Media, I know firsthand the impact positive stories of love and hope can have on many lives. It reminds me why I love this medium so very much.
You know, as a young girl living in the small footprint of the South, I quickly understood that I could transcend my physical boundaries and discover experiences that extended beyond my tiny space in the world. I was mesmerized by great storytelling, and I am the beneficiary of its powerfully unwavering ability to expand the mind and warm the heart. Now, later in life, I knew my destiny somehow, some way, was in television.
Now, my trajectory to this evening has not been a linear one. Like many of you, I stand on the shoulders of greatness. People like Decker Anstrom, Julia Sprunt, Scot Safon, Pat Mitchell, Mike Perry and so many others who have poured their wisdom and sometimes tough love into me. So tonight I want to focus on a few lifelong lessons about grace, generosity, and grit.
There is no me without three people who instilled these three qualities within me. So let me tell you a story, not about a man named Jed, but about Hank, Ted and Ruby.
Now, as a child, I had a front row seat to overcoming seemingly insurmountable challenges through the sheer power of grace. You see, I watched my uncle, the late great Hank Aaron, pursue his home run record while receiving constant death threats. I watched my uncle sharpen his focus, chase his dream, show grace to those who wished him harm. So as leaders, when we see someone struggling with difficult challenges, show them grace. You never know. Show grace.
You never know if they will be the one to metaphorically hit it out of the park one day.
Also: Jim Nantz Invokes Jim McKay at B+C Hall of Fame Induction
Generosity and kindness also changed the trajectory of my life. Weeks before my high school graduation, my father [Bill Lucas] died suddenly when he was the GM for the Atlanta Braves. I vividly remember Ted Turner saying to my mother, "I will always take care of you." And so he did, when life was so uncertain for us. He helped put me through college that fall, and throughout the duration of my tenure there, he took my mother from being a classroom teacher to the corporate boardroom at Turner Broadcasting. My point is, as you move through your career, you never know when a moment of generosity can have an amplifying effect on a life. So take time, and care, to live with a generous heart.
Last but not least, my mom, Rubye, who's here tonight. [Applause.] My mom is the epitome of grit. And although she stands barely five feet tall, probably like 4-6, I don't know, she is simply fearless. While in the TBS boardroom with the likes of John Malone, Gerry Levin and Brian Roberts, she asked if there was an opportunity for kids' content. And one board member, not the aforementioned, just putting it out there, not Gerry, Brian or John, scoffed at the idea. But Ted listened. He moved forward and it became Cartoon Network. [Applause.]
This story taught me that the perceived tiniest voice in the room could have the biggest idea. So look for that tiny voice, that potential change agent who has the courage and the grit and deserves to be seen and heard.
So I want to close with three things. Gotta say, the best title I have ever had is that of Mom. Thank you to my three daughters, one of whom, Alexis Kirton, is here with me tonight. They inspire me every day. And I am so incredibly grateful for the Hallmark Media team that is here today. I call 'em my A Team, y'all. They're my A Team. They are brilliant, scrappy and, most importantly, they are kind.
And lastly, my humble soul admires each of the phenomenal awardees who are being honored here tonight. Now, your body of work speaks for itself, and your influence on the industry is obviously clear. Yet it is how you walk through life, and your character while doing so, that is most impressive. You each in your own unique way are the living embodiment of grit, generosity, and grace.
I thank you.
Click this link to watch Wonya Lucas's time at the podium (and Craig Melvin's introduction plus video) at the 2023 B+C Hall of Fame.
The smarter way to stay on top of the streaming and OTT industry. Sign up below.
Kent has been a journalist, writer and editor at Multichannel News since 1994 and with Broadcasting+Cable since 2010. He is a good point of contact for anything editorial at the publications and for Nexttv.com. Before joining Multichannel News he had been a newspaper reporter with publications including The Washington Times, The Poughkeepsie (N.Y.) Journal and North County News.