Attorney General Jeff Sessions Launches Crackdown on Chinese IP Theft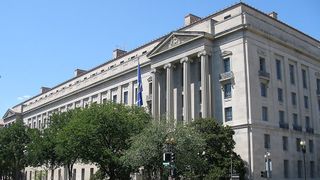 Citing a U.S. Trade Representative report on Chinese hacking into commercial communications networks, Attorney General Jeff Sessions has announced a new initiative to combat that country's theft of intellectual property, including a review of foreign investments in U.S. telecommunications.
Sessions said the department will recommend legislation if necessary to combat state-sponsored espionage and theft.
Sessions said DOJ is creating a China Initiative, led by Assistant Attorney General John Demers, to "identify priority Chinese trade theft cases, ensure that we have enough resources dedicated to them, and make sure that we bring them to an appropriate conclusion quickly and effectively."
Sounding like Howard Beale in Network, Sessions said: "We are here today to say: enough is enough. We're not going to take it anymore.
Among the initiatives tasks will be to look at "the Foreign Investment Review staff's review of investments and licenses in U.S. infrastructure and telecommunications, and the Foreign Agent Registration Act Unit's work to counter covert efforts to influence our leaders and the general public."
Related: Trump Administration Levying $200 Billion in Chinese Tariffs
Sessions also announced that an indictment has been returned by a San Francisco Grand Jury in a civil suit filed by the Department of Justice to prevent Chinese and Taiwanese companies from transferring technology it says was stolen from Micron, A San Francisco-based semiconductor maker worth $100 billion and in control of almost a quarter of the RAM (random access memory) market, which is central to computing.
The Grand Jury decision is not a conviction, but is a finding that there is enough evidence to proceed to a trial.
DOJ claimed that the former president of a company acquired by Micron in 2013, left that company in 2015 and took $8.75 billion in trade secrets with him to a Taiwanese company that is one of the defendants in the suit and which partnered with a Chinese State-owned company so it could steal the technology.
If convicted, the defendants could get up to 15 years in prison and the Chinese and Taiwanese companies involved up to $20 billion in penalties.
President Donald Trump is all about "fair dealing" the Administration has emphasized, but Sessions signaled that it will not allow "our sovereignty to be disrespected, our intellectual property to be stolen, or our people to be robbed of their hard-earned prosperity."
The Administration has arguably been sending something of a mixed message about China given that it worked out a deal to restore U.S. tech imports to Chinese telecom ZTE (lifting lifting a previous ban). ZTE had violated terms of an earlier agreement and been identified by major U.S. intelligence officials as a security threat.
The Commerce Department had issued the ban after ZTE failed to keep its end of a settlement over supplying tech to Iran and North Korea, but after talking to the President of China, President Trump instructed Commerce to strike a deal to save Chinese jobs, which was subsequently struck.
The reaction of Mark Warner (D-Va.), vice chairman of the Senate Intelligence Committee and no fan of the ZTE deal, signaled the Administration initiative was good, as far as it went. "The Administration has powerful, targeted tools at its disposal to hold bad actors accountable for theft of U.S. companies' IP and trade secrets, even when the theft takes place abroad," he said in a statement e-mailed to B&C/Multichannel News. "I applaud the Department of Justice for using one of those tools today to hold China accountable, and encourage the Administration to take additional steps to crack down on economic espionage by Chinese businesses and the Chinese government."
The smarter way to stay on top of the multichannel video marketplace. Sign up below.
Thank you for signing up to Multichannel News. You will receive a verification email shortly.
There was a problem. Please refresh the page and try again.