Arris Debuts New Wi-Fi 6 Mesh Systems at Retail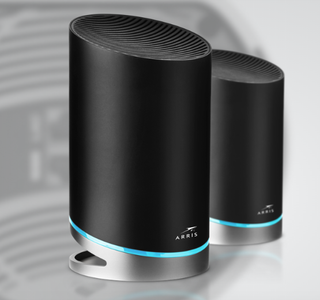 Arris has announced the pending retail availability of two new mesh Wi-Fi systems built around the new Wi-Fi 6 standard.
The Surfboard Max Pro is priced at $649 at Best Buy and directly from Arris starting July 22. It enables speeds of up to 11 Gbps and coverage up to 6,000 square feet. The Surfboard Max Plus delivers speeds of up to 7.8 Gbps. It's priced at $549 for a two-router mesh system and is available for pre-order from Amazon, Wal-Mart and directly from Arris. Both products come in a cheaper single-router iteration, as well.
The new systems feature the latest wireless and modulation technologies, including OFDMA and High Order Modulation. Arris claims the devices are the only Wi-Fi 6 products on the market that use the new standard for three separate bands.
Related: Alliance Unveils WiFi 6 Certification Program
The Surfboard Max systems also feature management apps for both iOS and Android mobile devices. Support for Amazon Alexa voice-enabled devices is also featured.
"We did our research and took the time to get them right, maximizing the full potential of Wi-Fi 6, tri-band, and mesh," > said Evan Groat, VP of Arris' consumer products group, in a statement. "The result is the world's first true tri-band Wi-Fi 6 mesh systems. They offer performance that no other system can match."
The smarter way to stay on top of the multichannel video marketplace. Sign up below.
Thank you for signing up to Multichannel News. You will receive a verification email shortly.
There was a problem. Please refresh the page and try again.