A&E to Reboot 'Ghost Hunters'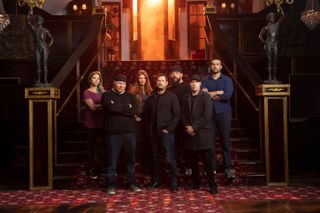 A&E will look to mine the paranormal reality genre with the return of Ghost Hunters as well as re-imagined versions of Psychic Kids and Celebrity Ghost Stories, the network said Wednesday.
Ghost Hunters, which aired for 11 seasons on Syfy from 2004 to 2016, will debut on A&E Aug. 21 with a 20-episode run featuring one of the show's original team leaders, Grant Wilson, as he and a group of professional ghost hunters investigate hauntings across the country, said the network.
The network will also bring back paranormal-themed series Psychic Kids nine years after its run on the network. The series, which in its initial run followed several children who reported to have psychic abilities, will return Aug. 11 with eight episodes that revisit those original kids -- now successful adults -- as they empower a new generation of young psychics alongside trained licensed therapists, said the network.
Celebrity Ghost Stories also returns to A&E this fall after a five-year hiatus, and follows paranormal storyteller and world-renowned psychic-medium Kim Russo as she brings some of the biggest names in entertainment back to the sites of their paranormal experiences for an unfiltered reunion with the ghosts of their past, according to the network.
New shows coming to A&E this fall within the paranormal genre include Trey the Texas Medium and special World's Biggest Ghost Hunt.
"A&E has been on the forefront of programming in the paranormal space and with that success, we have been eager to bring the genre back to the network for some time," said Elaine Frontain Bryant, executive vice president and head of programming for A&E Network in a statement. "Each of these series has a unique point of view, but will collectively give our audience a window into a world of spellbinding stories that have to be seen to be believed."
The smarter way to stay on top of the multichannel video marketplace. Sign up below.
Thank you for signing up to Multichannel News. You will receive a verification email shortly.
There was a problem. Please refresh the page and try again.