Is 4K Finally Poised to Achieve Mass Adoption?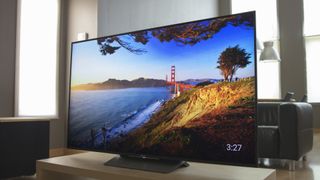 Is 4K finally ready to achieve mass adoption in the U.S.?
As ultra-pricy 8K TV sets enter Best Buy showrooms, Leichtman Research Group (LRG) says 4K is finally ready to have its big moment.
"It is important to recall that after reaching 17% penetration in 2006, HDTV expanded to 69% of TV households in 2011," LRG said in a research note. "Spurred by a continued decrease in the prices of 4K TVs, and the fact that the vast majority of current 4K owners are pleased with their sets, we are now likely entering a similar growth stage of the product life-cycle for 4K HDTV.
LRG noted that 48% of non-4K TV owners are interested in 4K and are planning to to get a new TV in the next year. And 41% of 4K TV owners say they're very interested in getting another 4K set.
In its research note, LRG didn't peg a U.S. penetration percentage figure for 4K sets. The Consumer Technology Association said penetration probably exceeded the 17% threshold back in 2017.
Notably, despite the proliferation of devices that enable TV watching—smart phones, tablets, notebook computers, etc.—LRG said the mean number of TVs per household has held steady at around 2.6 over the last five years.
And the refresh rate on TV's is pretty rapid.
In surveys conducted annually by LRG over the last 15 years, more than 20% of respondents said they bought a new television in the previous year.
Now, U.S. consumers may be a little confused as to what 4K content is.
In LRG's most recent survey on the subject, 40% of respondents said that Netflix is their primary source of 4K shows. However, among that group, only a third said they subscribe to Netflix's premium tier, which is the only way to get 4K content from the SVOD service.
However, 59% of survey respondents strongly agreed that now matter what they're watching, their 4K set made it look a lot better.
The smarter way to stay on top of the multichannel video marketplace. Sign up below.
Thank you for signing up to Multichannel News. You will receive a verification email shortly.
There was a problem. Please refresh the page and try again.