Wonder Women of New York 2022: Gala Goes Live Again
Meet the industry execs who will be honored when the in-person luncheon event returns March 24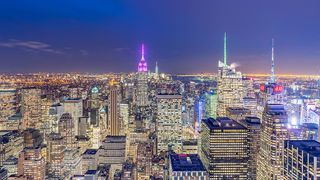 (Image credit: Andy Moreton/Wikimedia Commons)
On March 24, the in-person Multichannel News Wonder Women of New York awards event returns in its luncheon format to Manhattan's Ziegfeld Ballroom. Now in its 23rd year, Wonder Women acknowledges the achievement and commitment of some of the most remarkable women in television, who continually show up to innovate, inspire, speak up for equality and lead their team and organization from the front.
Learn more about this year's Wonder Women of New York class by clicking on the links below. And for more on the live program, go to MCNWonderWomen.com.
2022 Woman of Influence
2022 Wonder Women of New York
The smarter way to stay on top of the multichannel video marketplace. Sign up below.
Mike Demenchuk has served as content manager of Broadcasting+Cable and Multichannel News since 2016. After stints as reporter and editor at Adweek, The Bond Buyer and local papers in New Jersey, he joined the staff of Multichannel News in 1999 as assistant managing editor and has served as the cable trade publication's managing editor since 2005. He edits copy and writes headlines for both the print magazine and website, wrangles the occasional e-newsletter and reviews TV shows from time to time. He's also the guy to bother with your guest blog, Fates & Fortunes and Freeze Frame submissions.