SymbolShifters Embeds Codes in Video Streams for Interactivity on Older DTV Receivers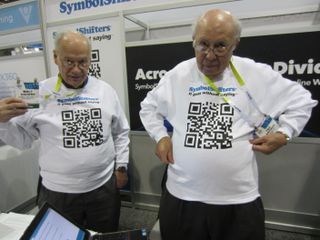 SymbolShifters, a technology that embeds scannable icons (SI), also known as "Quick Response (QR) codes," into video streams, is the latest vision of two venerable cable technologists, Walt Ciciora and Ted Hartson.
Their patented system debuted in the "Eureka Park" innovation/start-up section at the International CES and has already generated interest from broadcasting organizations, looking for a way to put interactive information onto the tens of millions of first-generation "not-smart" digital TV sets.
"We are hopeful about presenting a background paper during the National Association of Broadcasters' event in April," Hartson told me after CES.
SymbolShifters technology inserts an SI code into the video stream for 1/30th of a second. Multiple SIs can be put into a stream. The code includes directions for detecting and decoding the data (in a data bundle called a "wrapper"), which can be stored in the receiver for further processing. The receiver can be configured to capture all SIs to create a history of what has been received for later uploading to an appropriate device.
Ciciora foresees applications of the technology for coupons, coupling the information to price searches and "even the actual placement of orders for merchandise and services."
"Users who participate in social media may have appropriate portions of the QR and wrapper data transmitted to the social media service," he said.
"Basic implementations can be done with downloaded 'apps' into devices with adequate memory, processing power and communications links to the Internet,' Ciciora explained in a briefing paper about the technology. "These devices include ... TV receivers, set top boxes, laptops and other computers and terminals, smart phones tablets ... and game consoles." The SymbolShifters technology can also be accessed via a dongle and HDMI connections to the digital TV receiver.
"Some or most of the processing and storage can be done in the cloud," Ciciora added.
Hartson acknowledged that the venture is a "sunset business," aimed at the 115 million DTV receivers that have been sold in the first decade of the transition from analog broadcasting. With typical humor, he characterized the old sets as not smart enough to handle the growing interest in interactivity.
"With this technology, a viewer can automatically capture what used to be available just on interactive TV," Ciciora explained in a published interview. "There are benefits to the programmer, the advertiser and the viewer."
Ciciora and Hartson, sporting logo sweatshirts emblazoned with their own QR code, acknowledged that they were among the oldest entrepreneurs in the sprawling Eureka Park exhibit area at CES. Surrounded by Internet and wireless start-ups, wearable hopefuls and gizmos galore, the veteran media technologists pushed the value of their embedded code via their slogan, "It goes without saying."
SymbolShifters is the latest technology venture from Hartson and Ciciora. Hartson said that they began working on the concept in 2001.
"We quickly figured that no one wants to hold their phone up to a TV set," he said. "But we found a way to automatically harvest info connected to a QR code at the viewer's end."
"That led to something pretty interesting," Hartson told me, emphasizing that SymbolShifters is "now protected by two patents."
Ciciora also envisions use of SymbolShifters technology in Internet Protocol TV applications and in stored video systems.
"If the program is stored and replayed later, QRs placed in the advertising can be captured, stored and reported back to the advertiser as proof of display of the [commercial]," Ciciora said. "The report optionally can include information about when and how often the advertisement was viewed."
The duo had previously developed the EnCamera Sciences interactive technology that was sold to Dotcast, which licensed it to Disney and was the basis for the short-lived MovieBeam streaming video service in the 2000s. Earlier Hartson was a top technology executive at Time-Life Cable, Capital Cities Cable and Post Newsweek Cable (now Cable One). Ciciora was a top engineer at Zenith and later engineering VP at Time Warner Cable.
Gary Arlen examines new media technology ventures at Arlen Communications.
The smarter way to stay on top of the multichannel video marketplace. Sign up below.
Contributor Gary Arlen is known for his insights into the convergence of media, telecom, content and technology. Gary was founder/editor/publisher of Interactivity Report, TeleServices Report and other influential newsletters; he was the longtime "curmudgeon" columnist for Multichannel News as well as a regular contributor to AdMap, Washington Technology and Telecommunications Reports. He writes regularly about trends and media/marketing for the Consumer Technology Association's i3 magazine plus several blogs. Gary has taught media-focused courses on the adjunct faculties at George Mason University and American University and has guest-lectured at MIT, Harvard, UCLA, University of Southern California and Northwestern University and at countless media, marketing and technology industry events. As President of Arlen Communications LLC, he has provided analyses about the development of applications and services for entertainment, marketing and e-commerce.