Deloitte's Upbeat Media/Telecom Outlook Foresees Increased Spending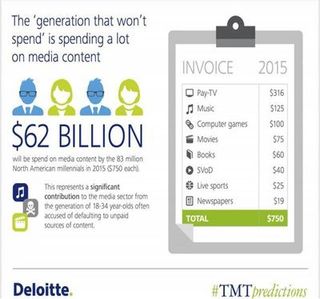 Deloitte's 2015 "Technology, Media & Telecommunications Predictions" foresees that "the generation that won't spend" is actually "spending a lot on media content" and that "disruptive innovations with broadband delivery" will make higher speed services more widely available.
In its latest annual outlook, unveiled in mid-January, the global consultants examine an array of topics, from the Internet of Things (one billion devices to be shipped this year, up 60% from 2014; predominantly used in industrial rather than consumer settings) to contactless mobile payment systems (should be integrated with other retail/financial applications; need strong security).
In its wide-ranging 76-page analysis, Deloitte paints a bullish picture for streaming media and equipment used to access it. It expects that North America's 83 million Millennials (ages 18 to 34 years old) will spend $62 billion this year on media content, including video (pay TV, subscription VOD), music, games and other entertainment/information sources.
Overall, Millennials will spend about $3,000 per year on technology hardware and connectivity," including game consoles and portable devices on which they can receive and watch streamed video, Deloitte says.
The analysis contends that short form video has a strong future, but it is not the future of television." It predicts that videos less than 20-minutes long) will represent "under 3% of all video watched on all screens." Although such short videos will generate $5 billion in global revenues, that sum will pale against the $400 billion from long-form TV content brought in by advertising and subscription revenues.
"Short-form should not be considered as a direct competitor to 'traditional' long-form content, but rather as an additional screen-based medium, addressing needs that were previously un-served or which were catered for by other media," Deloitte concludes.
As for sports, the report notes that Millennials are "less devoted to major league sports than older generations," but that 86% of them watch live sporting events on TV and are many are "likely to spend $25 to attend a game."
In its Telecommunications forecast, Deloitte dwells on "haves" and "have nots," particularly rural users. It concludes that, "There are evident implications for regulators" and "It may not be sufficient simply to call for broadband to be recognized as a universal service, in the same way as fixed-line telephony."
The report suggests that the definition of broadband "needs to be updated regularly"; it predicts that rather than conventional downstream benchmarks, "in future, as broadband usage evolves, upstream speed will become increasingly important as users upload more content."
"Regulators should also consider how price per megabit is affected by technology," according to Deloitte's assessment.
As for over-the-top and VOD services, Deloitte recommends that providers may have to develop "alternative approaches" to reach customers who cannot access mainstream services. It cites "satellite caching" as a possible option.
The Deloitte study delves into some unusual territory, touching on topics that may be vital for cable operators looking at whole-home service, such as WiFi delivery.
For example, it acknowledges that WiFi can result in a 50% drop in speed.
"Providing a wired connection is too complex for most households," Deloitte observes, but it lists numerous barriers to wireless home service: older routers have less throughput; construction materials affect performance (thick walls in old home; foil-backed plasterboard/insulation in new homes); underfloor heating coils that deflect signal.
"The highest speeds within a WiFi home are generally closest to the router," Deloitte says, "but in some cases the device needing the fastest speeds (typically the television) may not be adjacent to the router."
Summarizing many of the challenges for these and other broadband installations, Deloitte concludes that, "In the long-term there is ample opportunity for more disruptive innovation with broadband delivery."
Gary Arlen analyzes broadband and media trends at Arlen Communications.
The smarter way to stay on top of the multichannel video marketplace. Sign up below.
Contributor Gary Arlen is known for his insights into the convergence of media, telecom, content and technology. Gary was founder/editor/publisher of Interactivity Report, TeleServices Report and other influential newsletters; he was the longtime "curmudgeon" columnist for Multichannel News as well as a regular contributor to AdMap, Washington Technology and Telecommunications Reports. He writes regularly about trends and media/marketing for the Consumer Technology Association's i3 magazine plus several blogs. Gary has taught media-focused courses on the adjunct faculties at George Mason University and American University and has guest-lectured at MIT, Harvard, UCLA, University of Southern California and Northwestern University and at countless media, marketing and technology industry events. As President of Arlen Communications LLC, he has provided analyses about the development of applications and services for entertainment, marketing and e-commerce.