AT&T Edges Closer to True OTT Replacement of Pay TV, Begins Testing New Thin-Client Boxes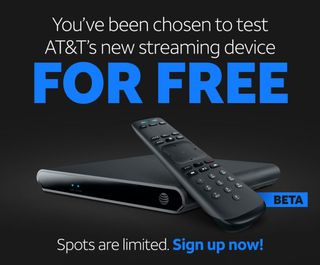 While it's approached the concept for several years, pay TV is about to fully cross the threshold into over-the-top distribution.
As first reported by The Verge, AT&T has begun inviting subscribers to test out a new streaming set-top that will underpin the company's upcoming premium over-the-top-delivered pay TV service.
According to the report, AT&T sent emails to customers asking them if they wanted to test the device for "about six months." During its third quarter earnings call last month, AT&T said the device was in beta, with trials beginning in early 2019.
AT&T has described the service tied to the thin-client device as a kind of meeting-in-the-middle between fully OTT distributed virtual MVPD services like WatchTV and DirecTV Now, and full-bundle satellite TV.
AT&T hasn't officially announced pricing for the upcoming service, but it's been speculated that it will include a full bundle of channels and will be priced closer to traditional services. And like traditional pay TV, it will run on proprietary hardware, not a Roku or Apple TV.
At the same time, it won't be confined to managed network.
"It's a device that allows us to, instead of rolling a truck to the home, we roll a UPS or FedEx truck to the home and deliver a self-install box," said AT&T CFO John Stephens, speaking on Wednesday at the Morgan Stanley European Technology, Media and Telecom Conference. "This allows the customer to use their own broadband. We certainly hope it's our own fiber but it could be on anybody's broadband. And they get the full-service premium package that we would normally deliver off satellite or over our IP-based U-verse service."
For their part, cable operators including Comcast and Charter have put their toes into the streaming waters over the last few years with services that run over their managed networks.
Meanwhile, the satellite operators, Dish Network and DirecTV, have had some success, albeit not in the sense of profitability, with true OTT delivery of skinny bundles.
But AT&T's new service will represent a first for pay TV: The full bundle, distributed over the open internet.
"The key is, as we roll that out to full production or full availability to our customers, you will see subscriber acquisition cost come down significantly because it's the cost of that box as opposed to the cost of an employee rolling a truck, climbing the roof and installing the satellite," Stephens added.
The smarter way to stay on top of the multichannel video marketplace. Sign up below.
Thank you for signing up to Multichannel News. You will receive a verification email shortly.
There was a problem. Please refresh the page and try again.