Wenn jeder einzelne Pixel zählt: loop light und AV Stumpfl kündigen strategische Partnerschaft an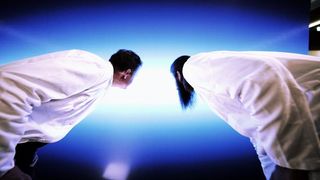 Wenn jeder einzelne Pixel zählt: loop light und AV Stumpfl kündigen strategische Partnerschaft an
Das 3-minütige Video "Every Pixel Counts" erzählt auf unterhaltsame Art und Weise eine Geschichte über die zugrunde liegende Leidenschaft, den weltbesten Medienserver zu entwickeln, zu produzieren und zu bedienen.
Weil wirklich jeder einzelne Pixel zählt…
"Every Pixel Counts" wurde von Matt Finke, Gründer und Geschäftsführer von loop light produziert. Gedreht wurde dabei vorwiegend in den neuen F&E-Räumlichkeiten von AV Stumpfl®, wobei ausschließlich Mitarbeiter beider Unternehmen zum schauspielerischen Einsatz kamen. Die erste öffentliche Vorführung des Videos wird auf der IBC in Amsterdam stattfinden: am Stand von AV Stumpfl #8.C58.
"Every Pixel Counts" ist auch online verfügbar unter https://vimeo.com/looplight/epc.
Matt Finke ist neuer "AV Stumpfl Brand Ambassador"
Matt Finke und sein Team inszenieren spektakuläre Shows, die abertausende von Menschen in aller Welt beeindrucken. Das loop light Team ist über die Grenzen hinweg berühmt für kompromisslose Kreativität, Performance und Souveränität in allen Belangen. Für die loop light Crew ist ihr Equipment nicht nur ein notwendiges Werkzeug, sondern vielmehr die Existenzgrundlage.
Die Leidenschaft der AV Stumpfl Mitarbeiter ist es, die leistungsfähigsten und hochwertigsten Produkte zu entwickeln und zu produzieren. Sie arbeiten täglich daran, alles was technisch und physikalisch machbar erscheint, weiter auszureizen – weil sie mit großer Leidenschaft ihr Ziel verfolgen.
In ihrer neuen Partnerschaft verfolgen beide Unternehmen das gemeinsame Ziel, die kreativen und technischen Möglichkeiten für ihre Kunden zu maximieren und auf ein völlig neues Niveau zu heben.
loop light nimmt Wings Engine Raw Medienserver auf
loop light wird in Wings Engine Raw Medienserver investieren, um diese Plattform ihren Kunden in Shows und Installationen zugänglich zu machen.
"Mit Wings Engine Raw werden unsere Kunden die Möglichkeit haben, ihre Contents so brillant wiederzugeben, wie sie erdacht wurden – ohne Kompromisse", freut sich Matt Finke.
Broadcasting & Cable Newsletter
The smarter way to stay on top of broadcasting and cable industry. Sign up below.
Thank you for signing up to Broadcasting & Cable. You will receive a verification email shortly.
There was a problem. Please refresh the page and try again.