RG Light Service relies on wysiwyg for the Gedinne Plein Air outdoor dance festival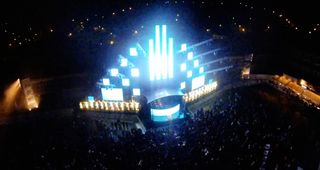 The end result - a drone was used to film the event.
From concept to design to pre-cueing to execution, all lighting for the 26th Gedinne Open Air outdoor dance event in Belgium was created by RG Light Service using the wysiwyg R33 lighting design software suite from CAST Software.
Gedinne Plein Air is an annual event that has been running since the 1980s. The talent for this years' event included a mix of local artists, such as iCe Kream, DJ Dan, Sonik, Bob Sinclar and guest DJs. On an unprecedented scale, a combination of sound, video and lighting wowed audiences.
Working for Production Manager, Denis Andrien, RG Light Service designed lighting for a 20-meter high rigging structure, and 180-meter square projection screen positioned behind performers and artists.
RG Light Service utilized their own in-house equipment throughout the entire production process including a wysiwyg software suite, MA Lighting VPU and Media Server, and MA Lighting grandMA2 full-size case. Being able to bring lighting and multimedia into wysiwyg and preview in realtime made it much easier to pre-cue, previsualize and synchronize all production components.
"We used more video this year than in previous years. wysiwyg R33 was used to previsualize lighting fixtures and video projection screens. By using the new screen glow feature we were able to see how lighting and the ambient glow from the screens would work, maximizing the impact of visuals during the live performances. We presented lighting design concepts that exceeded our clients' expectations of production value and audience 'wow' factor. wysiwyg's rich graphics and substantial functionality provided us with an all-in-one solution to help us to significantly reduce programming and rehearsal time as well as to meet budget and infrastructure requirements," explained Raphaël Ganhy, Managing Director of RG Light Service.
Established in Belgium in early 2013, RG Light Service is the culmination of 20 years of lighting design experience worldwide. The company is headed by Raphaël Ganhy and projects include parades, concerts, events and television shows.
"As an experienced lighting operator and technician, my wish for every project is to combine the emotion and experience of light. It's vital to synchronize sound, light, and visual prowess using the desire to share, meet and to create. We use wysiwyg for the implementation of a project in its entirety, including the first idea to the beneficial results. What could be more rewarding than to break ground with imaginative designs?"
Bruce Freeman, Chairman at CAST Group added: "RG Light Service and their outstanding work at Gedinne Plein Air is great example of how wysiwyg can be used as a single solution for all stages of the production process including lighting design, pre-cueing, previsualization and execution. The spectacular results engaged both the talent and audiences!"
Images: © RG Light Service and Storder Tristan
About RG Light Service
Website: www.rgls.be
Facebook: @RgLightService
About CAST Software
Established in 1994, Toronto Canadian-based software and hardware developer, CAST Software celebrates its 20th year in business in 2014. CAST Software serves its core markets in entertainment production, special events and meetings. Its award winning flagship software products are wysiwyg design and previsualization suite, and Vivien -- Event Designer. All products are designed and created in-house and supported by an established global distribution and reseller network.
CAST Software Ltd. is a member of the CAST Group of Companies Inc.
Broadcasting & Cable Newsletter
The smarter way to stay on top of broadcasting and cable industry. Sign up below