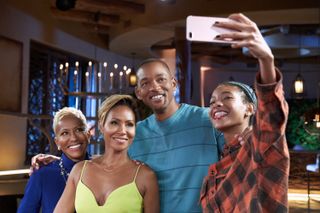 You'd think social media giant Facebook would be ramping up the spend on advertising for its one big Facebook Watch video service hit at the moment, Ball in the Family, a reality show following basketball's famously bombastic Ball family around the world.
The show's producer, Steve Ezell, who's traveled with the Bunim/Murray Productions-produced show since it debuted 15 months ago, said that family patriarch Lavar Ball's youngest son, LaMelo, would return to the United States from self-imposed exile in a Lithuanian pro league — big news on digital outlets ESPN.com and Bleacher Report.
Would Facebook tout the breaking news to promote the third season of Ball in the Family?
Not really. Nothing, in fact, was planned for advertising.
"Because of the nature of the [Ball] family," Ezell said, "everybody is advertising for us."
For those wondering about the potential of the world's largest communications platform to take over TV with Facebook Watch, the still relatively new free-to-consumer, advertising-supported video service is starting out unconventionally.
In an age in which vast quantities of news gets distributed on a social network reaching 2.27 billion active monthly users across the globe, it would seem logical that Facebook might find ways to exploit user data to target viewers to shows. A nifty algorithm, for example, could surface those headlines in the feeds of the basketball fans it allegedly knows far too much about, reminding them about its little Ball family reality show.
"We have access to a lot more data than we traditionally would working for a TV network," conceded Ezell, who doesn't even work directly for Facebook.
That kind of intimate promotional capability is the Holy Grail for most TV marketing executives toiling away at linear cable and broadcast networks. But if your interest was piqued by last week's Ball news, you'd have to search for the show on Facebook, or check to see if it was still on the "Watch List" of shows you've previously viewed on the platform.
Just like Ball in the Family, more than a year after launch, Facebook Watch is just kind of quietly sitting there, hardly a failure but by no means a hit. "Facebook appears to be making a big play here, though its internal promotions belie the strategy," Michael Greeson, president of research firm The Diffusion Group, said.
The promotional strategy is dictated by the "open" design of Facebook's platform, said Matthew Henick, the social media firm's head of content strategy and planning. The handful of premium shows on Facebook Watch — which also include the Jada Pinkett Smith-led gab show Red Table Talk, the Brillstein Entertainment Partners-backed melodrama Sorry for Your Loss and Queen America, featuring Catherine Zeta-Jones as a beauty pageant coach — get no more of a promotional boost than do the hundreds of far-cheaper-to-produce digital shorts from internet video companies like Refinery29 and Mashable.
Similar to YouTube, the best and most popular Watch shows will ostensibly end up winning the day, virally distributed via platform search and by the sharing of friends.
Maybe.
Sorry for Your Loss stars Elizabeth Olsen, the sister of twins Mary-Kate and Ashley Olsen and an acclaimed indie film actress, as a young widow unearthing all sorts of strange secrets about her deceased husband. The show has been exceptionally well-reviewed, with its first season generating a very impressive 95% "fresh" score on TV critics aggregation site Rotten Tomatoes.
But according to Facebook's metrics, which are readily apparent on a Watch show's page, just like they are on YouTube, only around 130,000 users have clicked "start" on the most recent episode. (Facebook debuted the first four episodes of the show on Sept. 18. There are 10 first-season episodes of Sorry for Your Loss.)
"They haven't really figured out how to promote anything they do," said Alan Wolk, founder of TV[R]EV, concurring with fellow analyst Greeson.
14M Regular U.S. Viewers
As Watch reached its one-year anniversary in August, The Diffusion Group released an anemic user survey assessment, which said the service would spend between $1 billion to $2 billion on video content this year. The researcher said Watch was being used regularly by only around 8% of U.S. Facebook denizens.
Worse, only around half of Facebook's U.S. user base had even heard that there was a free video offering on the social media network.
"People don't know what it is," Wolk said. "It's not even clear to people that Watch is a separate thing [within Facebook]."
Conversely, 8% of 214 million translates to a sizable audience of around 14 million regular Facebook Watch viewers, which in the ultra-competitive realm of over-the-top distribution, ain't a bad first-year performance by any measure.
According to eMarketer, spending on Facebook dominates internet video advertising. Last month, the research company noted that spending on online video ads in the U.S. will grow 30% in 2018 to $27.82 billion, making up a fourth of all digital ad spending. The report projects that Facebook will end up controlling 24.5% of that digital ad spend, or around $6.81 billion.
Perhaps with all of this in mind, Facebook said in August it would charge forward with international expansion of Watch. In the United Kingdom, for example, Facebook is already funding shows like Barcroft Media's Most Interesting Homes and ZigZag Productions's Troy the Magician.
Despite what he still considers a "slow build" of Watch users here in the U.S., TDG's Greeson conceded "it would be remiss to underestimate Facebook's longterm potential as a large-scale video provider."
Like Amazon, Apple, Netflix and Google — the other four companies making up the "FAANG" acronym for Silicon Valley's most highly market-capped companies — Facebook approaches video with goals that are more diffuse and less direct to the bottom line, relative to most TV companies, Greeson said.
"This is why technology companies are so dangerous to legacy media companies," he said. "Pure-play video, music or gaming operators must survive on revenue and profits from those services, whereas Facebook, Google, Apple and Amazon have such deep pockets and vast business empires that they can spin up a service in short order and lose money on it for years if it serves a higher purpose, like keeping Facebook users in the branded ecosystem for longer."
In his report, the TDG analyst specifically noted the Watch platform success of Localish, a digital-first brand launched by ABC Owned TV Stations. In July, Localish premiered More in Common on Facebook Watch. Through early November, the uplifting reality show had gathered 172,400 Facebook followers, which are tantamount to "subscribers" on YouTube. Not bad for locally produced content by a station group.
Housed in the "news" section of Facebook Watch, More in Common is comprised of heartwarming stories, culled from the news teams of local ABC stations, about Americans who have "come together despite their differences" to accomplish notable goals in their respective communities.
It's in line with other "pro-social" unscripted Watch shows, including Returning the Favor, another local-do-gooder focused Watch series starring Mike Rowe, former host of Discovery Channel's Dirty Jobs.
Is this kind of unscripted show Watch's "brand lens"? Cue the maybe emoji.
"Unscripted content definitely works well on the platform, but we are seeing really strong signals with viewers connecting with each other around scripted content, whether it's a drama like Sorry for Your Loss or stand up comedy clips from Dry Bar Comedy," Henick said.
Ricky Van Veen, Facebook's head of global creative strategy, has recently said that the platform looks for "hot starts" with known talents, such as the Ball family or Pinkett Smith.
Led by Digital Natives
While FAANG has rattled the TV business largely by poaching from the Burbank-native ranks of traditional film and TV companies, Watch has put mostly digital natives in charge of video.
Henick, for example, has a master's degree in digital media studies from Stanford University and cut his teeth at internet content company BuzzFeed.
Van Veen was the co-founder of seminal digital content platform College Humor and also spent time at Barry Diller's Internet conglomerate, IAC. Fidji Simo, Facebook's vice president of video, used to work at eBay. Angel Gonzalez, sports and original programming manager for Facebook, has a background in banking and construction.
Notably, though, Mina Lefevre, head of development and programming for Facebook Watch, worked at MTV as executive vice president and head of programming and development.
"We have people with very traditional TV backgrounds on our originals team both in development and production," Henick said, noting Lefevre specifically. "We didn't recruit them solely for their traditional experience, but for their creative tastes and willingness to experiment in this new video environment. 'Internet content' and 'traditional TV' are merging very quickly."
Ball in the Family producer Ezell said he mostly interacts with Lefevre and Gonzalez. He said the creative process of working with Facebook is not too different from dealings he'd have with a cable network. Network notes, he said, are often given, but tend to be on the "lighter side."
It's unclear as to how precise metrics of Watch shows are, despite what appears to be transparency. As Wolk noted, unlike, say, Nielsen metrics, which measure viewing minute by minute, Facebook is only showing the world how many starts there are to an episode. So, on the surface, a metric like the 27.4 million views for the premiere of Ball in the Family may appear impressive, but it doesn't tell you how many of those views came from start/stop viewing from the same user, or how many unique users watched the show.
Still, Facebook's viewer metrics do tell a story of the platform perhaps serving its larger goal, which is to simply increase overall engagement. For example, beyond the 4 million "views" for the pilot episode of Sorry for Your Loss, Facebook tells us that nearly 8,600 people have reacted to the show, 1,000 users have commented on it and nearly 2,500 watchers have shared it with their friends.
For large tech companies like Facebook, Greeson said, "media services are commonly a means to a larger end, not ends in themselves."
Daniel Frankel is the managing editor of Next TV, an internet publishing vertical focused on the business of video streaming. A Los Angeles-based writer and editor who has covered the media and technology industries for more than two decades, Daniel has worked on staff for publications including E! Online, Electronic Media, Mediaweek, Variety, paidContent and GigaOm. You can start living a healthier life with greater wealth and prosperity by following Daniel on Twitter today!
The smarter way to stay on top of the multichannel video marketplace. Sign up below.
Thank you for signing up to Multichannel News. You will receive a verification email shortly.
There was a problem. Please refresh the page and try again.