Tech Stocks Battered, Cable Mixed in Market Meltdown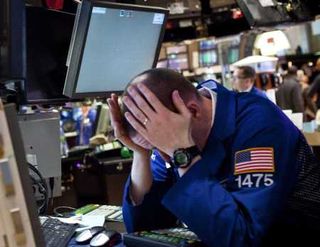 The Dow Jones Industrial Average plunged nearly 800 points Tuesday as investors remained skittish over uncertainties around U.S. trade policy with China, fueled by a morning tweet by President Trump. The meltdown battered most tech stocks but turned out to be a mixed bag for cable shares.
The Dow closed at 25,027.07 on Tuesday, down 799 points as enthusiasm waned concerning the 90-day tariff truce in the U.S.-China trade wars struck over the weekend, after President Trump tweeted "I am a Tariff Man."
[embed]https://twitter.com/realDonaldTrump/status/1069970500535902208[/embed]
Investors feared that animosity between the world's two biggest economies could heighten, erasing any gains in the U.S. and rocking already shaky markets in Europe and Asia.
The so-called FAANG stocks — Facebook, Amazon, Apple, Netflix and Google — had a rough day Tuesday, dropping between 2% and 5% each, while cable stocks were down but declines were not as severe.
Facebook fared the best of the FAANG stocks, closing at $137.93, down about 2.2% ($3.16 per share) while Netflix closed at $275.33 per share Tuesday, down $14.97 each or about 5.2%. Amazon fell 5.9% ($103.96 each) to close at $1,668.40 per share and Google dropped 5% ($55.61 each) to close at $1,050.82 per share. Apple dipped 4.4% ($8.13) to $176.69 per share.
Cable stocks fared a bit better, with declines in the 1% to 3% range.
Comcast fell hardest in the sector — down 3.7% ($1.46) to $37.69 per share, while Charter Communications dipped 1.5% ($4.86) to $321.84 each. Liberty Global dipped 2.1% and Altice USA was down 1.3% for the day, while Cable One was the sole gainer, rising 0.5% ($4.35 each) to $866.62 per share.
AT&T was down 3.1% (98 cents) to $30.73 and Verizon was essentially even, closing at $58.13 per share Monday, down 3 cents each. Dish Network had the biggest decline in the satellite sector, dropping 4.4% ($1.46 each) to $31.93 per share.
On the programming side, broadcaster CBS had the biggest decline, falling 4% ($2.16) to $51.35 per share. The rest of the sector was down between 1% and 2% each, with The Walt Disney Co. closing at $112.94 (down 2.4%), AMC Networks closing at $57.06 (down 2.1%); Viacom finishing the day at $30.88 (down 1.9%) and 21st Century Fox priced at $49.12 (down 1.1%).
The smarter way to stay on top of the multichannel video marketplace. Sign up below.