Sen. Blumenthal: Consensus Building for Section 230 Overhaul
Connecticut Democrat calls it outdated construct, not untouchable internet 'Ten Commandments'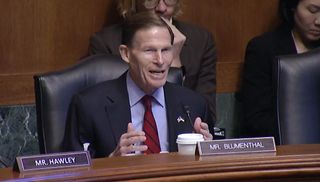 (Image credit: Senate Judiciary Committee)
Citing some of the Justices in the recently argued Gonzalez v. Google, Sen. Richard Blumenthal (D-Conn.), chair of the Senate Judiciary Committee's Privacy Subcommittee, said that there appears to be an "emerging consensus" that Congress has to do something about what he called an outdated construct that has led to toxic, algorithm-driven content.
He expressed that view in his opening remarks in a hearing on Big Tech and Section 230 prompted by the U.S. Supreme Court oral argument in the case, which revolved around whether social media can be held liable for abetting terrorist speech.
Blumenthal was not sounding much like a Democrat when it came to the argument for a neutral internet, though he was talking about edge providers, not internet service providers. "I think that the time when the internet could be regarded as a kind of neutral, or passive, conduit is long since passed,' he said.
Gonzalez v. Google revolves around the issue of whether social-media platforms could be held legally liable for aiding and abetting terrorism. The 9th U.S. Circuit Court of Appeals concluded that Section 230 — the provision of the Communications Decency Act of 1996 immunizing social media from civil liability in most cases — generally bars such aiding and abetting claims.
Also: Big Tech Battles Threat to Content Moderation
But with regard to a different complaint, the same court concluded that Google, as well as Twitter and Facebook, could be liable for aiding and abetting terrorism.
The justices seemed to suggest Congress needed to step in to decide what Section 230 should mean in a post-algorithm world — the statute dates from 1996 — given the implications for the operation of the internet if sites began being held liable for suggestions, recommendations or "next ups" under the plaintiff's argument.
They clearly appeared uncomfortable with trying to set the precedent of what kind of content online platforms should be liable for, with Justice Elana Kagan suggesting that they were not the nine most internet-savvy people around.
"Fifteen years ago, when I was [Connecticut] attorney general dealing with MySpace and Craigslist and many the same issues that we're confronting today, I said to my staff, 'We should repeal Section 230,' "Blumenthal said. "And they came down on me like a house of bricks and said, 'Whoa, you can't repeal Section 230, that's the Bible of the internet!' Well, it's not the Bible of the internet, it's not the Ten Commandments that have been handed down. It is a construct that is now outdated and outmoded and needs reform."
Big Tech has been pushing back hard on efforts to reform the section, saying it threatens their business model and would lead to more, not less, censorship — including self-censorship by platforms as a form of self-protection. Tech firms have even been trying to play into Republican fears of censorship of conservative speech.
In a sign of the bipartisan nature of the Section 230 reform movement, Sen. Josh Hawley (R-Mo.), pretty much the political polar opposite of Blumenthal, got a shout-out from the chairman for his work on the issue. In turn, Hawley said the slow progress of possible reform was as much, or perhaps even more, the fault of Republicans as Democrats.
Hawley said the time has come to give parents and kids the basic right to hold Big Tech legally liable for content on their sites.
Protecting 'Defective Products'
Sen. Amy Klobuchar (D-Minn.) said social-media platforms had for too long been protected by Section 230 from being designed in a way that produced "dangerous and defective products."
Blumenthal said Congress should make clear what is going on: Big Tech is making big bucks by driving more eyeballs to content the harms of which they are aware. He said they may not want to promote that content, but know that repeating and amplifying it is addicting kids to that content, and with "certain consequences."
Andrew Sullivan, president of the Internet Society, stood up for Section 230 in his hearing testimony. He said that there was potential to do a lot of harm to the internet by targeting that provision.
"The broad protections that Section 230 affords are essential for — in the words of that statute — [the] 'interactivity' [of] the Internet," he told the senators. "Simply stated, without the basic protections that Section 230 provides, we would not have the robust engagement of hundreds of millions of Americans in the online conversation, nor would we have the astounding innovation in online services that we have witnessed over the past 25 years."
But Blumenthal said in closing there should be no doubt that "change is coming," and that that should be the takeaway from the hearing. ■
The smarter way to stay on top of the streaming and OTT industry. Sign up below.
Contributing editor John Eggerton has been an editor and/or writer on media regulation, legislation and policy for over four decades, including covering the FCC, FTC, Congress, the major media trade associations, and the federal courts. In addition to Multichannel News and Broadcasting + Cable, his work has appeared in Radio World, TV Technology, TV Fax, This Week in Consumer Electronics, Variety and the Encyclopedia Britannica.