Rutledge: Video Is Here to Stay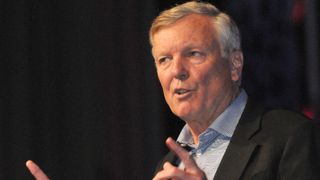 Charter Communications chairman and CEO Tom Rutledge told an industry audience Monday that he still believes there is ample room for growth in the video business, adding that pricing and margin pressure could continue to squeeze virtual MVPD competitors.
Charter is nearing the finish of its all-digital upgrade — Rutledge said it should be completed this year — and the cable operator has increased data speeds across its footprint. Today, about 60% of Charter's footprint has a minimum data speed of 100 Mbps per second. For the remaining 40%, the minimum speed is 200 Mbps.
"We went through long, arduous integration process to build a company that was a single platform everywhere we operate," Rutledge said. "We're wrapping it up this quarter," adding that Charter should be able to reap the fruits of those labors in 2019 with lower capital expenditures and better products.
Rutledge said that despite the rumors of the death of pay TV video, content is still an important part of the business.
"What we sell is a connective relationship to the customer," Rutledge said at the UBS Global Media & Communications conference in New York Monday. "Video is important to that."
Despite continued pressure around pricing and packaging that has caused disruption in the pay TV industry, he added that in two to three years, he expects the business to be pretty much the same.
"The trend lines will continue, but I don't think it is going to precipitously restructure in that time frame," Rutledge said. "Our view is there is an opportunity for us to continue to have video products integrated with our data, mobile and wireline voice products that are economically and from a product perspective better than our competitors," Rutledge said. "We need video to do that."
While margin pressure has been increasing on the video product for years as costs increase, Rutledge said he sees life there too.
"I don't think margins go to zero in a three-year time frame," he said. "I think the overall margin in the business can be sustained, if not grown. Our competitors have the same cost structures we do, generally. I think we can mix and match video."
As for those competitors, virtual MVPDs like Sling TV, DirecTV Now and others have experienced a slowdown in subscriber growth rates. Rutledge said it all comes down to customer relationships.
"I think that part of the issue with virtual MVPDs is your overall relationship with the customer and how sticky that is," Rutledge said. "I think we have an opportunity to make a stickier relationship. That isn't to say you can't have a virtual MVPD that makes money, but it creates a very expensive product from a programming perspective and a marketing and churn perspective. Running a business with no gross margin and with a lot of marketing cost is a challenge over time. Unless someone wants to do it for another reason, there should be some lessening of price pressure."
The smarter way to stay on top of the multichannel video marketplace. Sign up below.