Roku Channel Enjoys a Growth Spurt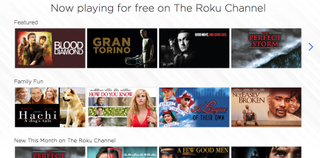 As subscription-based streaming has become an increasingly mature, competitive business, the advertising revenue side is emerging as undiscovered country.
Consider the Roku Channel as the Netflix of the fast-growing advertising-supported video-on-demand (AVOD) business.
Roku just posted third-quarter revenue growth of 39% (to $173.4 million), driven by the rapid expansion of platform advertising sales on the Roku Channel.
Roku is still known for its over-the-top devices that connect TVs to the internet. But since the first quarter, it has been making more of its money selling advertising.
Platform revenue comprised 47% of Roku's revenue in the third quarter of last year. In the just-reported 2018 third quarter, platform revenue had spiked to 57%, or $100.1 million.
That growth tracks with the free-to-consumer Roku Channel, which expanded out to the open internet in September, a year after its launch.
Roku distributes the streaming apps of about 5,000 partners in the OTT ecosystem that operate on its industry-leading device platform. That platform currently serves 23.8 million active accounts, up from 16.7 million in third-quarter 2017.
The Roku Channel is but one more app, offering library movies from suppliers including Warner Bros. and Sony Pictures, as well on-demand news channels from ABC News and Cheddar, to highlight a small cross-section of the content.
Roku doesn't break out how much advertising revenue the Roku Channel is generating specifically. But it's been called the platform's fastest-proliferating app ever.
"The Roku Channel has become a material source of ad impressions and monetization on the platform, something we believe will grow over time given the expanding reach and popularity of the channel," Roku CEO Anthony Wood said in a note to shareholders. "Increasing reach and engagement allows us to continue to improve content quality and selection on the channel, which fuels its relevance to our user base."
Roku Channel growth also tracks the expansion of engagement with the platform in general. Total hours spent by users streaming video increased to 6.2 billion in the third quarter, up from 3.8 billion hours in Q3 2017.
Wood said he believes Roku has the advanced-advertising capability to further monetize this growth.
"A key differentiator, and competitive moat, is our direct relationship with customers on our platform which allows us to continuously collect rich data, including user registration, and anonymized behavioral information — like audience engagement with streaming channels, streaming ads and traditional linear ads using opt-in technologies like Automatic Content Recognition (ACR)," Wood said. "We gather this data and create user segments, develop lookalike audience and predictive models and activate segments for use in a variety of business operations, including recommendations for users in The Roku Channel, analytics for our content publishers and targeted advertising for brands. Our platform is also capable of ingesting CRM and third-party data sets from advertisers and data providers, to augment our already rich data set."
The smarter way to stay on top of the multichannel video marketplace. Sign up below.
Thank you for signing up to Multichannel News. You will receive a verification email shortly.
There was a problem. Please refresh the page and try again.