Nexstar's Perry Sook Elected NAB Joint Board Chair
Pat LaPlatney of Gray set as TV Board chair, Collin Jones of Cumulus as Radio Board chair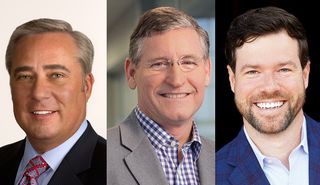 (Image credit: NAB)
Nexstar Media Group chairman and CEO Perry Sook was elected chairman of the National Association of Broadcasters Joint board of directors during the June 6-7 board meeting, taking over from Salem Media Group CEO David Santrella, whose term expired.
In other moves, Pat LaPlatney, president and co-CEO of Gray Television, was elected NAB Television Board chair. Ramona Alexander, VP and general manager of WDBD, was elected TV Board first vice chair. Lynn Beall, executive VP and COO of Media Operations for TEGNA, becomes TV Board second vice chair and Chris Ripley, president and CEO of Sinclair Broadcast Group, was named TV Board third vice chair. Kristopher Jones, executive VP and head of government relations at Fox Corp., was appointed the designated TV network seat on the NAB Board's Executive Committee.
Collin Jones, executive VP of strategy and development at Cumulus Media, was elected Radio Board chair by the NAB Radio Board. Kevin Perry, president and COO of Perry Publishing and Broadcasting Co., was elected Radio Board first vice chair and John Zimmer, president and owner of Zimmer Radio of Mid-Missouri, was elected Radio Board second vice chair. Chris Ornelas, executive VP and general counsel of Beasley Media Group, was named to the Radio Board's major group representative seat on the NAB Board's executive committee.
The smarter way to stay on top of the streaming and OTT industry. Sign up below.
Kent has been a journalist, writer and editor at Multichannel News since 1994 and with Broadcasting+Cable since 2010. He is a good point of contact for anything editorial at the publications and for Nexttv.com. Before joining Multichannel News he had been a newspaper reporter with publications including The Washington Times, The Poughkeepsie (N.Y.) Journal and North County News.