Netflix Stock Down After Hastings Acknowledges Competition
By Mike Farrell
Tells industry audience that Disney+, Apple TV + will create 'new world'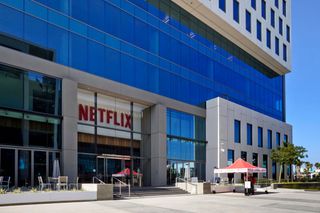 (Image credit: Netflix)
Netflix stock fell more than 7% Friday after chairman and CEO Reed Hastings told an industry audience that the emergence of new streaming competition from Disney and Apple will create a "new world" of competition.
Hastings was speaking at the Royal Television Society Conference in Cambridge, U.K., and said that beginning in November -- the expected launch dates of Disney+ and Apple TV + -- "it's a whole new world," according to reports.
Hastings also name-checked NBC Universal's planned direct-to-consumer offering Peacock, adding that the competitive landscape will be "tough."
"Direct-to-consumer [customers] will have a lot of choice," he said, according to a Variety report. 
But according to The Hollywood Reporter, Hastings said that Netflix has been preparing for the onslaught of SVOD competitors since 2012, and was surprised it hadn't occurred sooner.
"Sometimes you do your best work when you're challenged," he said, according to THR.
Still, acknowledging the competition and coming off a bad Q2 -- where Netflix lost domestic subscribers for the first time -- was enough to send the stock southward. Netflix shares traded as low $266 each (down 7.2%) on Sept. 20, before closing at $270.75, down 5.5% or $15.85 per share.
Related: Bull or Bear on Netflix: It Depends on Which Side of the Street You're On
The Friday drop-off basically erased the stock's gains for the year.
Netflix stock took a beating in July when it announced that it had lost domestic subscribers in the second quarter. The stock continued on a downward slope after that announcement, falling below $300 per share on Aug. 14. With the exception of a brief rise on Aug. 16 (to $302.80 per share) and Aug. 19 (to $309.38), the stock continued to stumble and is down a collective 13% ever since.
Hastings said Netflix would boost its programming spending in the U.K. -- it is on track to spend more than $500 million this year in Britain, a figure that would "not quite double" in 2020, according to THR. 
"Some day The Crown will look like a bargain," he said according to THR, of the Netflix series estimated to cost between $6.5 million and $13 million per episode. 
He expects content costs to rise higher with new players Disney + and Apple in the mix, adding that Netflix was outbid by Amazon for one show in particular that he coveted -- Fleabag, the critically acclaimed hit series by Phoebe Waller-Bridge.
The smarter way to stay on top of the streaming and OTT industry. Sign up below.
Thank you for signing up to Next TV. You will receive a verification email shortly.
There was a problem. Please refresh the page and try again.