Malone: Look For More 'Free Radicals' in Direct-to-Consumer Wake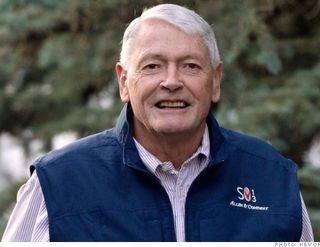 Liberty Media chief John Malone said the proliferation of direct-to-consumer offerings from programmers is likely to create opportunities for deals involving the smaller companies left behind.
Over the past few years, programmers have increasingly moved toward distributing their own content themselves, most recently with the Walt Disney Co., launching its direct-to-consumer sports offering -- ESPN + -- in April and plans to launch an entertainment focused offering -- Disney + -- in 2019.
That could mean that small, independent content companies, which Malone calls free radicals, may have to think fast to either start their own DTC offerings, or join forces with larger entities.
"Are there other free radicals around," Malone said at Liberty's annual Investor Day in New York. "Certainly on the video side. This change of the power of the direct-to-consumer distributors on a global basis is creating some orphans, Whether or not those orphans could be aggregated or at least have synergies in combination, I think is an important thing you will see over the next couple of years. Not everybody is going to be able to do a global direct-to-consumer platform. Many will be trying to move into that space as a supplier or a player, perhaps in some cases branded or in other cases as part of the food chain. There is no question going to be dislocation that will be offset by synergies of combination. I think you can expect a lot of transactions."
Related: Inside the Curious Mind of John Malone
Malone used Discovery's purchase of Scripps Networks earlier this year as an example.
Discovery and Scripps, he said, are "two companies facing the same challenges but in the short term taking advantage of the synergies to create a stronger and more durable enterprise while they figure out what the long-term strategy is in a transitioning industry."
Malone added that broadcasters could also be considered "free radicals."
"Their retransmission extraction is really just the monetization of some large sports contracts," Malone said. "Because without those large sports contracts they would not be receiving these fees from distributors. Their entertainment programming is being supplanted by the Netflixes of the world and they really don't have the budgets to compete in the creation of this kind of content. And their advertising revenue is being eroded by the database-rich approaches of Google and Facebook. They're in an awkward position. If they lose or see those sports contracts get much more expensive, they're going to have a very difficult time.
"So the question is, 'What do they do?'" Malone continued. " Are they becoming free radicals, or can they be protected by the collective? The speculation is the best buyer for regional sports is going to be Fox itself, the previous owner. Why? Because they they have lot of market power they derive through the collective of Fox News, the broadcast network and therefore regional sports could be more valuable to them than to others."
Related: The Curious Case of the RSNs
Malone had similar insights to TV and movie production studios, which he said initially saw Netflix as just another buyer of content.
"Initially it was, 'Oh boy, Netflix needs a lot of content and they are going to lease it from us.'" Malone said. "Then it became 'they are going to buy it from us but we can keep some rights.' Then it became 'they are going to buy it from us and we don't get to keep any rights.' Then it got to be 'if we don't deal with them, then they'll go to our producers and talent and do it themselves.' You get this disintermediation that takes place, and the traditional role of the studio starts to disintegrate, because of this changing monetization that Netflix started. The studios have got to figure out 'do we get together and get bigger,' which you saw Disney and Fox do. I think you see a lot of public vehicles right now that are or will become free radicals."
The smarter way to stay on top of the multichannel video marketplace. Sign up below.
Thank you for signing up to Multichannel News. You will receive a verification email shortly.
There was a problem. Please refresh the page and try again.