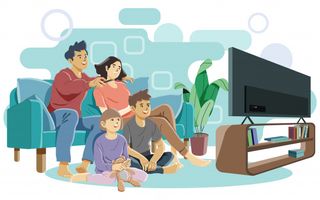 (Image credit: FreePik)
Forty percent of TV viewers said that their TV default was a subscription video on-demand (SVOD) service such as Netflix . And even though live TV continues to be the most common default source for viewers, SVOD usage seems set to overtake it-- according to data from the Hub Entertainment Research'd annual Decoding the Default survey.
The research tracks the "default" source of content that consumers first turn to when they first fire up their smart TV. The survey tracked 1,601 U.S. consumers with broadband, age 16-74, who watch at least 1 hour of TV per week.
While live TV remains the most common form of default viewing, with 46% of viewers citing it as their first choice, that gap has narrowed significantly in recent years and now stands only a single percentage point ahead of SVOD services.
Ironically, the availability of live content on online platforms may actually be helping TV retain its spot as a top default source, as nearly twice the number of viewers said they began watching online compared to those who use an over set-top box.
This is bad news for traditional cable companies, as the once necessary and often expensive addition to every package has now fallen way behind, with the disparity between online and traditional MVPD sources expanding to over 28 points.
The survey also points to the popularity of smart TVs, as in just the past two years built-in smart TV apps have attracted a third of total customers and overtaken set top boxes as the default starting point for TV.
According to the Hub survey, 45% of those enrolled with traditional service providers cited live sports and news as their primary motivation for subscribing to the service. Those enrolled with virtual multichannel video programming distributors (vMVPD) responded similarly, with 56% citing live sports and news as their motivation.
That's not entirely unexpected, but it does underscore the importance of live sports and news as preventative measures against cord cutting for MVPDs and vMVPDs.
This is especially critical considering the Hub's finding that consumers are much more likely to remain loyal to those services they call their default.
When surveyed, a majority of respondents across the board said that if forced to select only one provider, they would choose to keep the one that they typically reach for first. Most consistent were those who watched Netflix, as 64% of default Netflix viewers said they would keep the service.
Mark Loughney, senior consultant to the Hub emphasized just how imperative this data is for providers to better maintain their viewer-base.
"In order for providers to retain customers in the competitive streaming video marketplace, it's critical to be a first choice for viewing," Loughney said. "As viewers are increasingly defaulting to online video sources and relying on apps as a starting point, it's essential to be among those that are installed on smart TV menus."
The smarter way to stay on top of the streaming and OTT industry. Sign up below.
Jack Reid is a USC Annenberg Journalism major with experience reporting, producing and writing for Annenberg Media. He has also served as a video editor, showrunner and live-anchor during his time in the field.