Iger: Hulu the 'Third Prong' in Disney's Direct-to-Consumer Strategy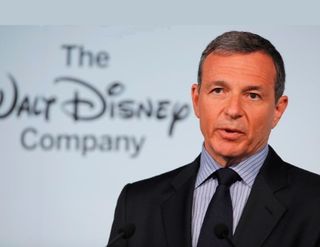 Walt Disney Co., chairman and CEO Bob Iger told an audience of investors and analysts Tuesday that its deal to assume operational control of streaming service Hulu the "third prong" in its direct-to-consumer strategy, linking its ESPN + and Disney + DTC products in ways that will unlock what the company believes is their enormous potential.
Disney said Tuesday morning that it had hammered out a deal with Comcast -- which holds a 33% interest in Hulu -- that will give the content giant immediate control of the streaming service. As part of the deal, Comcast has the right to put/call its interest to Disney in 2024 for $27.5 billion or market value of the stake at that time, whichever is higher. Disney also can force Comcast to sell it the stake at the same price.
Disney, which increased its ownership in Hulu to 60% after its purchase of certain 21st Century Fox assets closed in March, agreed to a deal that would bring AT&T's 9.5% interest in the streaming service back in-house in April.
At the MoffettNathanson Media & Communications Summit Tuesday, Iger told the audience that getting the full Hulu stake offers several benefits to Disney.
"We get full operational control from day one, which enables us to run it in ways that obviously gives action to a number of things both strategically and otherwise," Iger said. "There are a lot of synergies involved with it, I think first and foremost it's the third prong in our direct-to-consumer strategy with ESPN + and Disney+. We'll be able to manage customers across all platforms -- customer data, password, user name, billing -- it gives us the ability to bundle, [and] share data. Ad sales is another benefit because we'll integrate it with our ad sales across our other our platforms."
Iger added getting full control of Hulu also will help Disney leverage its content -- including FX, ABC, ABC News and others which could develop and produce content for the Hulu platform -- and its technology. He said eventually the BAMTech platform that powers Disney's other streaming operations will be the tech platform for Hulu.
When asked about the price, Iger said that operational control has "real value" as does the condition that if Comcast does not pump capital into the service, its stake could be diluted to as low as 21%.
"Ultimately it's a price we felt was justifiable," Iger said.
The benefits from operational control include the opportunity to integrate Hulu seamlessly with its other services, giving consumers the ability to buy one, two or three services in a bundle that will allow them to use the same password.
"Bundling is certainly attractive," Iger said. "Managing a customer seamlessly across platforms has real value."
The smarter way to stay on top of the multichannel video marketplace. Sign up below.
Thank you for signing up to Multichannel News. You will receive a verification email shortly.
There was a problem. Please refresh the page and try again.