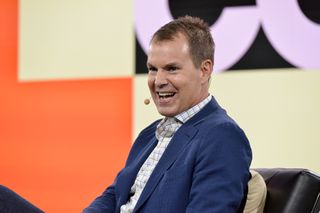 (Image credit: Getty Images)
Fear not HBO fans, as chairman and CEO Casey Bloys assured attendees of the 2023 Code Conference in Laguna Niguel, California, Wednesday that the terms outlined in the tentative WGA-AMPTP deal will not affect the network's programming.
"Is it going to be more expensive? Yeah, but I'm not going to say 'I'm not going to make this show now," Bloys said. "A good show is a good show is a good show … We've been through strikes before. It doesn't affect the kinds of shows we make."
Also read: HBO's 'Winning Time,' Perhaps the One and Only Show to Watch on Max Right Now, Canceled After 2 Seasons
Bloys said he's pleased the Writers Guild of America strike has come to an end with a deal brokered, but he shared some fear about the delicate economic state of the entertainment industry.
"We are in a moment in the industry that, you know, there's a lot changing," he said. "We're coming out of a bubble, [and] still dealing with the fallout from that … It is not business as usual."
Bloys also voiced his support to picketing writers, describing some of the issues of the strike as "existential."
"I'm happy it's done," he said. "I will take the positive and say I'm glad that it has not gone on till January … And I want everybody to feel that they've gotten a good deal and are ready to get back to work. So that's what I'm most concerned about."
Bloys refused to elaborate on the specifics of the deal because "everybody needs to ratify it."
However, he stressed the importance of adapting and trying new strategies in order to navigate the inevitable changes coming for the industry.
"I think we're in a phase now — trying things," Bloys said. "The conventional wisdom for the last 10 years [was] that you keep everything in-house. But in the history of television and HBO, syndication — selling your show somewhere else — that meant your show was successful [and] would have a life elsewhere."
Earlier this summer, HBO reached a deal with Netflix in order to bring Issa Rae's Insecure to the rival platform, among other titles. Reported as a financial decision from parent Warner Bros. Discovery rather than HBO, the distribution of content to other streamers could help make money for both studios and the freshly contracted writers.
"[WBD CEO] David [Zaslav] has done a very good job right-sizing," Bloys said. 'When David took over it was 'subscriptions at all cost' to 'we've got to make money.' I think it was the right tone for trying to figure out 'how do we do this in streaming and have it make sense? '"
HBO is already set to return to filming after the strikes, with script writing for The Last of Us, Euphoria and The White Lotus reported as its top priorities. Real Time With Bill Maher is set to return this Friday, and Last Week With John Oliver will return on Sunday for the first time since the WGA strike began.
The smarter way to stay on top of the streaming and OTT industry. Sign up below.
Jack Reid is a USC Annenberg Journalism major with experience reporting, producing and writing for Annenberg Media. He has also served as a video editor, showrunner and live-anchor during his time in the field.