Global Pay TV Revenue Peaked in 2016, Will Descend Back to 2010 Levels in Five Years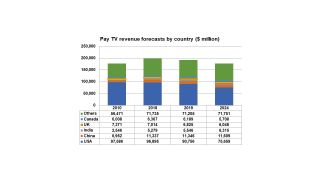 The good news: The global pay TV ecosystem will have grown by 380 million users from 2010 to 2024.
The bad news: 2024 pay TV revenue will largely be flat with 2010, with growth occurring in developing regions that generated far less ARPU.
This was the conclusion of Digital TV Research, which said that growth in the worldwide pay TV market already peaked at $205 billion back in 2016.
In the U.S., the research company found the golden years even preceded that—the American pay TV business generated about $97.6 billion of revenue in 2010, a figure that will steadily erode to around $75.7 billion by 2024.
The real growth, Digital TV Research noted, is in places like China, which will expand its pay TV revenue from around $6.7 billion to $11.6 billion over the same 14-year span.
The smarter way to stay on top of the multichannel video marketplace. Sign up below.
Thank you for signing up to Multichannel News. You will receive a verification email shortly.
There was a problem. Please refresh the page and try again.