Gigi Sohn Gets Third Bite at FCC Confirmation Apple
Nominee faces harsh Republican critics and some Democratic valentines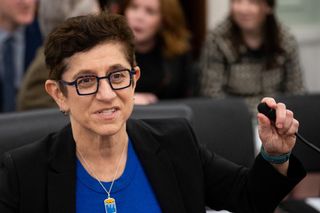 (Image credit: Bill Clark/CQ-Roll Call, Inc via Getty Images)
The Senate Commerce Committee on Tuesday (February 14) once again vetted public interest lawyer Gigi Sohn for the long-vacant third Democratic seat on the five-member FCC, and Republicans had their knives out. With a Senate majority, though, the Democrats hold the fate of Sohn in their own hands.

It was Sohn's third such hearing as her nomination has been held up over a variety of issues. Under attacks from Republicans, Sohn said she was not some Svengali who would be bending the Federal Communications Commission to her will. She also took off the table the rumor she would be angling for the chairmanship.

Senate Commerce Committee chair Maria Cantwell (D-Wash.) Tuesday called Sohn immensely qualified and someone who was truly committed to the job of getting broadband to everyone regardless of where they are or what they can afford.
Also: Ex-Fox Exec Preston Padden Says Sohn Deserves FCC Seat

Cantwell said Sohn has been criticized for standing up for free speech and thanked her for doing so. While Cantwell first thought the attacks on Sohn were a proxy fight over net neutrality rules, she said, they were instead based on industry fears that Sohn's backing of affordable broadband could cost them billions of dollars in lowered broadband bills.

Committee ranking member Ted Cruz (R-Tex.), who launched an attack on Sohn's character and her politics last month after she was renominated by President Joe Biden, had not mellowed in the intervening weeks.

Cruz conceded Sohn had the expertise to serve on the commission but said she lacked fairness, ethics and impartiality. He said Sohn had failed on all those fronts due to her partisanship, her lack of candor and her partisan positions, as well as her bad judgment and questionable ethics.

He urged the committee not to approve her — in what was her third nomination hearing — citing what he said was her support of character assassinations of committee members, her financial donations to Democratic members of the committee while still a nominee, her opposition to FCC indecency rules he said exposed kids to "filth" on TV, and more.

Sohn countered that while she provided some small financial support for various groups, and served on boards, it did not mean she supported all of their positions or their tactics, which in one case included Fight for the Future's billboards calling out committee members, Republican and Democrat, for their stands on net neutrality rules.

Sen. John Thune (R-S.D.), ranking member of the Communications Subcommittee, seconded many of Cruz's criticisms and said he, too, felt she was not qualified for the post. He made a brief reference to Sohn's leaking of confidential FCC information while a top counselor to then-FCC chair Tom Wheeler.

She explained that Wheeler had asked her to share the information and that the FCC Inspector General had subsequently concluded that Wheeler's request had turned the confidential information into public information, so there was no leak.

Republicans repeatedly cited Sohn's Tweets, though they were mostly retweets, to suggest she was not qualified. Sohn said the has made those tweets as a private citizen and public advocate and they would not have any bearing on how she did her job at the FCC.

Sohn said an FCC commissioner must follow the law and process and she was not some Svengali who could walk into the FCC and make it bend to her will.

Sen. Ed Markey (D-Mass.) said Sohn was one of the most qualified candidates for any position before the Commerce Committee and has been subjected to smears, double standards and personal attacks.

Markey said that every day the FCC is without Sohn is a win for giant telecom companies and their armies of lobbyists. Why, he asked. "Because she belives in consumer protection and Darwinian competition," Markey said.

Asked about the FCC's attempts at improving their broadband availability maps, Sohn said that would be one of her first orders of business.

Also: Sohn Says Fox News Criticism Does Not Extend to Viewers

She also said she would be included to support reversing the FCC decision not to count in-kind contributions toward the 5% cap on cable franchise fees.

Some law enforcement groups oppose Sohn, Republicans pointed out, citing what they said were Sohn's "demonstrated anti-police bias," again citing tweets and re-tweets, as well as over the issue of law enforcement access to encrypted information.

Sohn said that while she could understand police concerns, her tweets and retweets were "banal" and that she did not support defunding the police. But she also said she was somewhat baffled by the opposition, which she said she thought was "overwrought."

Likely most eyes were on committee member Kyrsten Sinema (I-Ariz,), formerly a Democrat, who could be the key to Sohn's future on the FCC.

She was widely reported to be among a couple of Democrats — the other being Sen. Joe Manchin (D-W. Va.) — whose lack of enthusiasm for their president's pick had kept the Democrats from seating Sohn.

But Sinema did not signal where she stood one way or the other.

Sinema asked about Sohn's promised recusals from various issues — copyright and retransmission consent among them — why she made them, and what impact they might have.

She also asked about the law enforcement opposition to her nomination related to accessing information and encryption.

Sohn said she did not really have a fully formed position on that issue, though she said law enforcement should have access to information with a warrant. She pointed out the FCC does not have authority over encryption.

Sinema said she supported bipartisan net neutrality legislation and asked whether Sohn still supported regulating broadband as a common carrier service under Title II of the Communications Act. Sohn said yes, she favors a narrow application, but would prefer Congress to settle the issue of FCC authority.

Sen. Eric Schmitt (R-Missouri) said he was concerned by Sohn's close ties to Google, what he saw as her two decades of pushing an agenda on behalf of Big Tech (mostly as head of Public Knowledge).

Sohn said that if he checked her statements and writings in recent years, she would find she had been as big a critic of Big Tech as he was. She said that things had changed since those players were smaller. And as to Public Knowledge getting funding from Big Tech players such as Google and Facebook, she was not partisan when it comes to money, and her group had also received funding from Comcast, Verizon Communications, AT&T and DirecTV.
"There is no question that Gigi Sohn is qualified to sit on the FCC. The only reason we are going through yet another hearing is because telecom companies, and the lawmakers shilling for them, know that when she is appointed she will put what's best for the American people over industry profits," said Fight for the Future managing director Caitlin Seeley.
Preston Padden, the former top Fox Broadcasting executive and Sohn fan whose support was noted during the hearing by both Democrats on the committee and Sohn herself, pushed back on the Republican attacks.
"Fighting for the right of consumers to pay for only the cable channels they wanted, former Republican Senate Commerce Chairman McCain repeatedly asked, 'Why should the little old lady living on Social Security in Gila Bend, AZ have to pay an extra $7 a month because ESPN (that she never watches) is a mandatory part of her cable bundle?'," Padden told Multichannel News after the hearing. "Like Gigi Sohn, McCain was a maverick willing to take on the industry and fight for consumers. He would vote to confirm Sohn in a nanosecond. By contrast, the GOP Senators at Sohn's hearing today sounded like they favored industry over their constituents! Sad."■
The smarter way to stay on top of the multichannel video marketplace. Sign up below.
Contributing editor John Eggerton has been an editor and/or writer on media regulation, legislation and policy for over four decades, including covering the FCC, FTC, Congress, the major media trade associations, and the federal courts. In addition to Multichannel News and Broadcasting + Cable, his work has appeared in Radio World, TV Technology, TV Fax, This Week in Consumer Electronics, Variety and the Encyclopedia Britannica.