Fox NFL Football Goes 4K-ish … and Once Again, We're Looking for Someone Who Cares
If Fox hadn't bothered to upscale this weekend's two excellent NFL playoff matchups, and sprinkle in a little HDR goodness, would a single, solitary fan in the entire football firmament have ditched the games?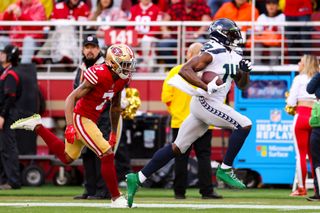 (Image credit: Getty Images)
Fox caused a stir this past week in some very abstruse corners of the TV industry by issuing a news release saying all its NFL playoff games this year, including the Super Bowl, would be "broadcast in 4K."
That statement was true, but also sorta not true. More importantly, it begged a much bigger, long-festering question facing the entire industry: Who cares?
The answer to that question depends very much on which group you're talking about. Is it broadcast and cable executives looking for any differentiating marketing edge, especially against streamers increasingly impinging on their last great source of programming? Is it advertisers? TV makers? Or, here's a novel thought, viewers?
I called Fox's claim "sorta true" because, while the signals indeed are broadcast in 4K, Fox cameras were capturing those images in good ol' high-definition video, at 1080P resolution. The video is then put through the Magic Video Resolver Machine and upscaled, or interpolated, to 4K.
To the purists, the result is not really 4K. Worse, for many non-golden eyeballs, interpolated 4K looks a lot like the HD signal from whence it came.
For an additional soupçon of tech gobbledygook, the Fox signals also are being captured in High Dynamic Range, or HDR, which can display a broader array of colors and blacker blacks. HDR can make screen images look more intense and lifelike, though, as the car commercials shot in 4K or even 8K like to say, your mileage may vary.
Just as important, if Fox hadn't bothered to upscale this weekend's two excellent matchups, and sprinkle in a little HDR goodness, would a single, solitary fan in the entire football firmament have ditched the games? Conversely, because Fox's network competitors didn't go all interpolated 4K HDR this weekend, did any fan not watch their playoff games? For that matter, how many fans can spell "interpolated?"
We've been slowly adopting 4K technologies for the better part of a decade now.
On the signal-receiving side, it's getting pretty darned difficult to buy a TV screen that isn't capable of 4K. Best Buy's website (opens in new tab) lists a 43-inch 4K Smart TV from a big-name electronics manufacturer, LG, for just $270. If you're really stretched for cash, the retailer also sells an Insignia 42-inch Smart TV model in HD for as little as $179, but why not step up, in case you get a fancy show to watch?
The cost of manufacturing televisions has plummeted the past 20 years, a mind-melting 10 times reduction. You can credit the price drop to rugged global competition, more efficient glass-manufacturing techniques at scale and Moore's law making the chips that run TVs cheaper, smarter and faster.
That's turned once-premium capabilities such as 4K into near-omnipresent items on TV feature checklists. The manufacturer's only problem is getting more 4K content to really show off what their nifty screens can do, so people will keep buying more TVs.
But 60% of U.S. households already have at least one 4K screen, usually the biggest one, in the biggest room, used to watch the biggest shows, according to data from Interpret. So most people can choose to seek out higher-quality programming for their best screens.
Advertisers shoot plenty of ads in 4K, 8K and even higher resolutions these days. Partly that's because they want to future-proof their content, and make their products look as luxe as possible. But there's not much evidence that higher-quality ads sell higher amounts of product. The message and the product (and how many ads are being shown) still matter a lot more.
On the broadcast side, stations have been installing ATSC 3.0 digital transmitters capable of sending those 4K signals (or chopping them up into multiple HD or data streams) since before the pandemic hit. I get releases regularly detailing the latest city to spin up its digital coolness.
Fox's release said the 4K signals would be carried by several distributors, including cable and satellite providers Altice USA, Comcast, Cox Communications, DirecTV, Dish Network and Verizon Communications, as well as FuboTV and YouTube TV. For most of those providers, delivering a better-looking experience is a way to make customers slightly more likely to pay.
YouTube TV — which just won the digital derby to take over the "NFL Sunday Ticket" package of out-of-market games for $2.5 billion a year — faces one economic reality the others don't: it costs a lot more to deliver a 4K signal to every extra streamed viewer. The economics are worse for streaming 4K signals than for broadcasting them. Then again, it was already clear YouTube TV has other opportunities (and economic structures) in mind when it splashes that kind of cash to stream NFL games.
Netflix also sells 4K streams, but only for its Premium tier, which costs twice as much as the basic plan and provides four times as many simultaneous streams.
High-end external streaming boxes such as the Roku Ultra (opens in new tab) and (opens in new tab)the Apple TV 4K (opens in new tab) can deliver all the streaming 4K you can find, including from 4K-focused subscription services such as Curiosity Stream, which specializes in nature and other non-fiction programming.
All of which leaves our beloved viewers. People vote with their pocketbooks, and the votes are not a ringing endorsement of 4K's charms.
As one example, Curiosity Stream, for all the gorgeous nature docs it serves up, last quarter reported revenue of less than $24 million and an operating loss of $4.4 million. Neither of those small, not-positive numbers suggests a full-throated audience embrace of 4K, which is only one of Curiosity Stream's tiers.
Apple cut the list price of its Apple TV 4K's latest version from $179 to $129. It remains an expensive, powerful, do-everything device that lags far behind all its cheaper, less capable competitors. And even with sports, Apple will stream the upcoming Major League Soccer season in HD, not 4K.
Dan Rayburn, a streaming media analyst, found last year that streaming services are seeing little demand for their 4K content, and they've instead optimized for quicker, smoother delivery of less demanding resolutions. It's also cheaper to go with lower bit rates, an important consideration when most services are suddenly worried about cutting costs.
Only about 10% of the programming running across numerous content-delivery networks is 4K, Rayburn found (opens in new tab).
Sometimes good enough is good enough and also more lucrative. Until audiences have reason to clamor for higher-resolution content, 4K will continue to be a nice thing that isn't moving the needle. Want more 4K? Who cares? ■
The smarter way to stay on top of the streaming and OTT industry. Sign up below.
David Bloom of Words & Deeds Media is a Santa Monica, Calif.-based writer, podcaster, and consultant focused on the transformative collision of technology, media and entertainment. Bloom is a senior contributor to numerous publications, and producer/host of the Bloom in Tech podcast. He has taught digital media at USC School of Cinematic Arts, and guest lectures regularly at numerous other universities. Bloom formerly worked for Variety, Deadline (opens in new tab), Red Herring, and the Los Angeles Daily News, among other publications; was VP of corporate communications at MGM; and was associate dean and chief communications officer at the USC Marshall School of Business. Bloom graduated with honors from the University of Missouri School of Journalism.
The smarter way to stay on top of the streaming and OTT industry. Sign up below.
Thank you for signing up to Next TV. You will receive a verification email shortly.
There was a problem. Please refresh the page and try again.