FCC's Inspector General Adds Social Media Accounts
Raises online profile as it oversees billions in subsidy programs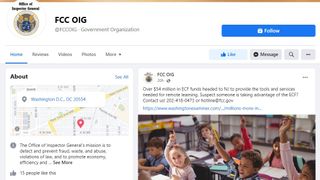 The FCC has launched some new online touchpoints for complaints about waste, fraud and abuse to raise the profile of the Office of Inspector General (OIG).
OIG is a small office with the big job of promoting efficient and effectiveness of FCC operations and investigating any complaints about its operations or programs, including being charged with monitoring for waste, fraud and abuse in the multi-billion dollar COVID-19-related relief programs.
The FCC inspector general is a presidential appointee who has to be confirmed by the Senate, just as FCC commissioners must be.
OIG now has Twitter and Facebook accounts and a Linkedin page.
The smarter way to stay on top of the multichannel video marketplace. Sign up below.
Thank you for signing up to Multichannel News. You will receive a verification email shortly.
There was a problem. Please refresh the page and try again.