FCC Enacts Anti-Digital Discrimination Rules
Critics say overbroad regulations miss the mark and mean potential ISP rate regulation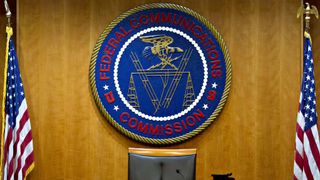 (Image credit: Andrew Harrer/Bloomberg via Getty Images)
In a party-line 3-2 vote, the Democratic-led Federal Communications Commission has voted to adopt new rules to prevent discrimination in the provision of broadband service — including pricing. The rules target both intentional and unintentional discriminatory actions and policies and FCC chair Jessica Rosenworcel pledged the agency would use all of its enforcement powers if a violation has occurred.
The FCC is implementing the Infrastructure Investment and Jobs Act (IIJA), which directed the commission to "prevent digital discrimination of broadband access based on income level, race, ethnicity, color, religion or national origin."
The rules would not apply to the FCC's Universal Service Fund or the Biden administration's Broadband Equity Access and Deployment (BEAD) programs.
Democrats said the rules need to define discrimination as both intentional and unintentional actions that disadvantage members of minority groups, since the result of either type of action is discrimination that Congress has directed it to prevent.
Republicans have pushed back hard on the rules, saying they are overbroad and would open internet-service providers up to "expansive, indeterminate and crippling" liability under a "disparate impact" standard. Disparate impact tests of facially neutral policies have long been a tool used in civil rights legislation.
Republicans also fear the "income level" component of the definition is another way for the FCC to regulate rates even if it does not do so overtly in its redefinition of internet access as a Title II service subject to common carrier regulations.
Also Read: GOP to FCC: Back Off 'Overbroad' Equity Rules
Rosenworcel said Congress was clear that the rules must facilitate equal access. She said the rules would fail to meet the mark if they only dealt with intent. They had to target both disparate treatment and impact, which she said puts the FCC on the right side of history and the law.
She said the rules were fair and reasonable and the FCC would use all of its powers to enforce them.
In strongly supporting the new rules, Democratic commissioner Geoffrey Starks said looking to eradicate discrimination anywhere will empower Americans everywhere.
Starks said it was important to understand that "by including both disparate impact and intent in our definition of digital discrimination, we recognize the multifaceted nature of digital discrimination and take the right steps under the law to eliminate it. Our disparate impact analysis is consistent with recent Supreme Court precedent."
Starks said liability is limited and there is a challenge policy, but that to target intent without impact would not be implementing what Congress intended. Nondiscrimatinon should be a core business goal, he said, so the proposal to make ISPs report on how they are deploying service is important.
Republican commissioner Brendan Carr said the FCC's new rules, like the Biden administration's entire broadband agenda, are about one word: control.
'Limitless' Regulatory Power
He said that could be seen in the efforts to reclassify broadband under Title II, to censor protected political speech and in the new rules, which he said give the FCC "limitless power" to veto private-sector decisions in advancing the goal of more government control.
Carr said the rules would give the government the roving mandate to micromanage how the internet works.
As to regulating both intentional and unintentional discrimination, Carr said, "If you take an action you may be liable, if you do nothing you may also be liable." As a practical matter, there is no way to comply in that scenario, he suggested.
As to the ability to regulate rates, Carr said the rules would regulate every ISP's pricing, as well as ad renewals, arbitration clauses, associated marketing agencies and much more. He said the Title II proposal's eschewing of rate regulation now made sense, since the new rules would expressly give the FCC that rate-regulation authority.
Carr said exempting USF and BEAD made no sense if the rules are necessary to prevent discrimination.
Carr said the rules only make sense in terms of an M.C. Escher drawing — on paper only [a reference to the prints of impossible shapes and actions].
Starks said BEAD and USF are already in compliance with nondiscrimination requirements, so exempting them was appropriate.
The item drew plenty of comment.
Andrew Jay Schwartzman, senior counselor at the Benton Institute for Broadband Society, said the U.S. has had a difficult time fulfilling the mandate of Section 1 of the Communications Act to ensure all Americans have have access to telecommunications services "without discrimination on the basis of race, color, religion, national origin or sex," and the rules should help alleviate that. "[S]ome internet service providers have redlined many neighborhoods and ignored the needs of large geographic sections of the country," he said.
ISPs represented by NCTA-the Internet & Television Association, were definitely not applauding the FCC's approach to the shared goal of preventing discrimination, saying it was "impossible to administer and impossible to comply with."
"Congress gave the FCC a clear and important directive – ensure that all Americans have non-discriminatory access to high-quality broadband infrastructure, said NCTA. "That is a goal the cable industry fully supports and has a proven track record of delivering, offering state-of-the-art broadband throughout our service areas regardless of income level, race, ethnicity, color, religion, or national origin.
"Instead of implementing Congress' focused directive, the FCC is instead asserting expansive new authority over virtually every aspect of the broadband marketplace, including pricing, marketing, discounts, credit checks, customer-premises equipment, deposits, late fees, equipment rentals, installation times, mandatory arbitration clauses, contract renewals, service terminations, and use of customer credit and account history," the group said. "And these sweeping rules will extend beyond broadband to encompass entire additional industries, from real estate owners and building landlords to marketing firms as well as contractors and consultants."
"The Commission's decision to impose a far-reaching liability regime will be counterproductive to closing the digital divide," the Information Technology & Information Foundation said. "The agency has acknowledged there is no evidence of ISPs engaging in discriminatory conduct. Nevertheless, it has chosen to simply expand the definition of discrimination to include bare statistical disparities and even claimed authority to regulate prices because of them. These decisions go well beyond the scope of rules authorized by Congress."
The International Center for Law & Economcs (ICLE) warned the rules would lead to a host of unintended consequences, "including introducing de facto rate regulation, which the FCC has historically eschewed," the International Center for Law & Economics (ICLE) said. '"The move is particularly curious given the Supreme Court's emerging 'major questions' jurisprudence, which will pose a major obstacle for the FCC to implement these rules."

ICLE told the FCC in advance of the vote: "If the Commission has good evidence of intentional discrimination in the deployment of broadband, it has a role to play in preventing it. But without strong, compelling evidence of intentional discrimination, the FCC will waste scarce resources chasing bogeymen."
Sen. Ted Cruz (R-Tex.), who had joined with other Republicans to tell the FCC the rules were off base, weighed in following the vote.

"Despite admitting there's 'little to no evidence' of discrimination by telecommunications companies, Democrats are hoping to convince the American people that broadband Internet is so racist they need to plow ahead with government-mandated affirmative action and race-based pricing," Cruz said in a statement sent to Multichannel News. "The only beneficiaries of this Orwellian 'equity' plan are overzealous government regulators who want to control the Internet."
"The FCC and the Biden Administration both acknowledge that there is no evidence in the record or otherwise that Internet service providers intentionally have discriminated based on income or otherwise in deploying broadband facilities or providing access to broadband networks," said Free State Foundation President Randolph May. "So, rather than using this finding as a point of departure for establishing a sensible framework to prevent any digital discrimination that may occur in the future, the Commission opts to use it as a basis for perhaps the most far-reaching unauthorized power grab in the history of the agency...
"[W]hat ought to be as disturbing as anything else is the certainty that the effect of the order will be to curtail the investment and innovation which should be the primary objective of government policy, including promoting equal access."
The smarter way to stay on top of the multichannel video marketplace. Sign up below.
Contributing editor John Eggerton has been an editor and/or writer on media regulation, legislation and policy for over four decades, including covering the FCC, FTC, Congress, the major media trade associations, and the federal courts. In addition to Multichannel News and Broadcasting + Cable, his work has appeared in Radio World, TV Technology, TV Fax, This Week in Consumer Electronics, Variety and the Encyclopedia Britannica.