White House Rolls Out 'Internet For All'
Commerce issues notices that billions in broadband subsidies are ready for the taking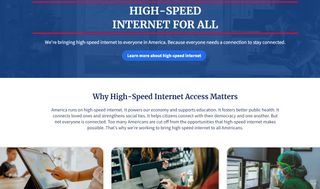 (Image credit: White House)
The Biden Administration is expecting Friday the 13th to be a lucky day for Americans who need government help to get online.
As expected, the White House announced that Notices of Funding Opportunity (NOLOs) have been issued for $45 billion worth of broadband subsidies that were in the President's massive infrastructure bill.
Those grant programs are the Broadband Equity, Access and Deployment (BEAD) program ($42.5 billion), the Enabling Middle Mile Broadband Infrastructure Program ($1 billion), and the State Digital Equity Act programs ($1.5 billion).
Also: ISPS Team to Track Biden's Broadband Billions
Together, they have been branded the Internet for All Initiative, complete with its own .gov web site.
The programs, the majority of whose money goes to states, are being administered by the Department of Commerce's National Telecommunications & Information Administration and ISPs and other broadband stakeholders have already been hard at work planning for grabbing a piece of that multi-billion subsidy pie to help further close the digital divide.
For Example, the Fiber Broadband Association in concert with NTCA - The Rural Broadband Association, developed a Broadband Infrastructure Playbook to "help state and municipal broadband leaders leverage funding from the BEAD program." FBA plans to update that playbook following the Fridays release of the NOFO.
Secretary of Commerce Gina Raimondo planned to travel to Durham, North Carolina, to launch the initiative, though President Biden and Vice President Kamala Harris, the latter charged with overseeing the push for universal broadband, already held a Rose Garden event to talk up the importance of broadband deployment and adoption.
Promoting broadband as a way to give small businesses a better chance for success was one of Biden's issues when he was Vice President. Universal broadband was also one of Biden's State of the Union promises.
"In the 21st century, you simply cannot participate in the economy if you don't have access to reliable, affordable high-speed internet," said Secretary Raimondo. "Thanks to President Biden's Bipartisan Infrastructure Law, Americans across the country will no longer be held back by a lack of high-speed internet access. We are going to ensure every American will have access to technologies that allow them to attend class, start a small business, visit with their doctor, and participate in the modern economy."
"With release of today's Notices of Funding Opportunity by NTIA, the country marks another important milestone on our national journey to promote digital equity and connect unserved Americans to robust broadband service," said NCTA-The Internet & Television Association, in a statement. "With networks that now reach over 80% of American homes with gigabit-capable technology and comprehensive broadband adoption programs, cable internet providers are continuing to expand private efforts and work in partnership with government officials to shrink the digital divide. We look forward to reviewing the notices and continuing to engage with policymakers as plans are developed that will promote fair, efficient and transparent processes in federal and state programs, distribute funding where it is needed most, and bring the benefits of broadband to all."
"Last year, as part of the Infrastructure Investment and Jobs Act (IIJA), Congress enacted new broadband support programs designed to narrow, if not permanently close, the country's broadband availability and adoption gaps," said ACA Connects President Matt Polka. "With today's release of the Notices of Funding Opportunity for the BEAD, Middle-Mile, and Digital Equity programs, Commerce Secretary Raimondo, Assistant Secretary Davidson, and the entire National Telecommunications and Information Administration (NTIA) team take a major next step toward achieving that goal."
"As the country's top rural broadband provider, Charter applauds NTIA's recognition of the importance of promoting streamlined permitting processes and cost-effective access to poles, which are increasingly identified as essential to achieving 100% connectivity across the country as quickly as possible," said ISPs. "Faster access to poles can shave months – or even years – off of the time to deploy and is essential to getting 100% of the country online."
"NTCA [The Rural Broadband Association] welcomes the BEAD Notice of Funding Opportunity and thanks the leadership and staff of NTIA for their hard work in preparing today's release," said NCTA CEO Shirley Bloomfield. "NTCA's small community-based members already provide high-capacity broadband services in some of the hardest-to-reach parts of the country, and today's notice initiates a once-in-a-generation opportunity to bridge the digital divide in other areas still left behind. We need to get this right—and I am encouraged by the notice's focus on prioritizing fiber projects capable of delivering high-quality services for decades to come, along with detailed expectations for demonstrated capabilities and performance and a strong indication that providers of all kinds should be placed on equal footing when it comes to seeking funds."
"The Benton Institute congratulates the NTIA on the Herculean effort to stand up its new broadband programs," said Benton Institute for Broadband & Society Executive Director Adrianne Furniss. "The Infrastructure Investment and Jobs Act recognizes that affordable, reliable, high-speed broadband is essential to full participation in modern life in the United States. The Internet for All initiative is the biggest federal investment in broadband infrastructure and digital equity ever. As states review the funding guidelines, their eyes must stay on the prize: a fully connected nation ready to realize the economic, educational, health, and civic potentials of the internet. We must seize upon our broadband moment."
"WISPA is encouraged that the NOFO provides States with the maximum latitude to meet the unique needs and challenges they face in delivering broadband services," said the fixed wireless internet service provider association. "This means State broadband officials can select the right tool for the right job, minimizing delay and optimizing the use of limited taxpayer dollars. WISPA agrees that this adaptable, technologically neutral approach is the best way to realize the promise of the BEAD program."
The Biden Administration has suggested it favors fiber, but is allowing for technology flexibility so long as it meets baseline high-speed speeds and quality standards.
The Free State Foundation cheered NTIA's launch of the program, but also found some reason for concern.
"Although the Notice does indicate that Eligible Entities shall prioritize unserved locations when scoring and awarding funding for last-mile deployment projects, much of the Notice gives the appearance of putting unserved and underserved locations on equal footing," said Free State director of policy Studies and senior fellow Seth Cooper. The BEAD Program will fail in its essential purpose if Americans are still left unserved by broadband services after the $42.5 billion allocated for the program is spent. Going forward, it will be important for NTIA to emphasize that unserved locations are to be given first priority for receiving grant awards for broadband deployment. And states awarding grants should be responsible for ensuring that every last unserved location within their jurisdiction gets connected to broadband. Otherwise, BEAD Program dollars may end up going to so-called 'underserved' locations wherein most Americans already have access to broadband Internet services with 80 Mbps download speeds," Free State said.
"And while it is good that NTIA's Notice does not impose "open access" or "net neutrality" regulatory conditions on the awarding of funds by states under the BEAD Program, the Notice includes a misguided recommendation that states ought to favor open access wholesale last-mile broadband services in setting their criteria for awarding grants. Open access requirements do not and would not help unserved Americans gain access to broadband. It is essential that states keep focused on connecting the truly unserved and not bog down the process or the program's ultimate success by pursuing open access requirements."
"The BEAD requirements effectively address many of our concerns about the failure of past programs to bring reliable, high speed broadband and good, union jobs to rural and underserved communities," said Communications Workers of America (CWA) President Chris Shelton. "Once again, the Biden Administration has made it clear that they are listening and responding to working people and holding corporations accountable for the way they use federal dollars."
"The Administration worked very hard to produce this initial guidance to bring internet for all in America and we appreciate their efforts," said USTelecom President Jonathan Spalter. "USTelecom's members stand ready to go to work to quickly achieve our shared vision of a fully connected America and ensure that this historic funding will be put to its best and highest uses."
"Funding leveraged through the BEAD and the middle-mile programs, combined with other funding programs, must support ubiquitous 5Gm: said the Competitive Carriers Associatoin. "All Americans, especially those in rural and hard-to-reach areas, must have access to nationwide connectivity, which means access to both fixed and mobile services. Fiber is an important input to support the deployment of 5G and successor wireless technologies throughout the U.S., but in areas where fiber is not possible, wireless will play a key role. To meet the communications needs of Americans everywhere, it is important for policymakers to leverage the IIJA programs and all other tools and programs available to support ubiquitous access to fixed and mobile wireless services in the U.S."■
The smarter way to stay on top of the streaming and OTT industry. Sign up below.
Contributing editor John Eggerton has been an editor and/or writer on media regulation, legislation and policy for over four decades, including covering the FCC, FTC, Congress, the major media trade associations, and the federal courts. In addition to Multichannel News and Broadcasting + Cable, his work has appeared in Radio World, TV Technology, TV Fax, This Week in Consumer Electronics, Variety and the Encyclopedia Britannica.