Engaging With Old And New Platforms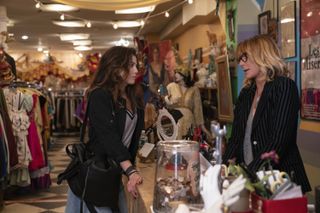 In a world where digital delivery has put the old problem of fragmentation on steroids, many argue that content is still king.
"A very important way [programmers] can differentiate themselves is through high-quality original content that resonates with viewers and supports their brand," Jill Rosengard Hill, executive vice president at Magid, said.
This is of particular importance in an era when TV channels and subscription video-on-demand offerings must compete with Netflix's $8 billion programming budget.
"In the [SVOD] wrestling ring we have Netflix, Hulu Live, Amazon Prime and Disney, Apple and others coming," Showtime Networks chief operating officer Tom Christie said. "Every one of those companies, including ourselves, is looking to increase the level of their programing and fight for the consumer's heart and soul."
Like other streaming players, CBS Interactive president and chief operating officer Marc DeBevoise said 2019 will be a particularly big year for originals on CBS All Access. On tap are a new Star Trek series and a Twilight Zone remake for a total of about 10 originals in 2019. "They help drive new subscriptions but they also engage existing subs and help us retain them," he said.
SVOD Glut?
FX Networks drilled into that dynamic in a recent report which found that of the 495 original scripted series airing in 2018, the largest number, 160, were now produced by streaming services, surpassing the 146 made for broadcast networks and 144 created for basic cable.
This fire hose of content, however, creates its own problems. "In the last few years, there were a lot of people saying, 'Let's just scale video for the sake of scale,' " said Sameer Deen, chief digital officer at Univision Communications. "But now I think we are not only seeing a pivot to video but a pivot to quality."
Deen also stressed the importance of crossplatform production, which for Univision includes a partnership with Facebook for Real America With Jorge Ramos, an English-language show available on Facebook Watch, and a midday newscast that started on digital but now has a window on the network's owned-and-operated TV stations.
Such fare is increasingly easy to monetize on newer platforms like mobile, because people are spending more time on those platforms. "Mobile viewing has become the default, not the exception," CNN senior vice president of digital Chris Berend said, pointing to the fact that in October of 2018, CNN ranked No. 1 among news organizations on mobile with 92 million unique visitors. "Audiences are accustomed to watch very long episodes on their phone and that has begun to extend the length at which audiences are staying with video."
AT&T's recent acquisition of CNN and the other Turner networks makes mobile even more important and improves CNN's ability to monetize mobile offerings, Berend noted. "We have already begun to see monetization on mobile improve," he said.
Players are also pushing into newer platforms like virtual reality, where PwC predicts revenues will rise from $2.6 billion in 2018 to $7.1 billion in 2022.
Nickelodeon's Entertainment Lab, which was set up to research and develop concepts for emerging platforms and new technologies, has been developing a Meet the Voxels project, Lab senior vice president Chris Young noted. The multiplatform project is designed for TV as well as virtual reality and augmented reality series.
Previously, the Lab had created SlimeZone, a multiplayer social VR experience, and the Rise of the Teenage Mutant Ninja Turtles VR Interview Experience.
"Kids are passionate about video and games and handheld devices and are consuming content in totally different ways than they have in the past," he said. "That is opening doors to new ways of creating content."
More from Viewer Watch 2019:
Hard to See
Adjusting to a Post Peak TV World
Digital Margins Pose a Dilemma
If You Build It …
What to Watch at CES
Viewer Watch: The Charts
The smarter way to stay on top of the multichannel video marketplace. Sign up below.