Cable TV Pioneers Names 53rd Anniversary Class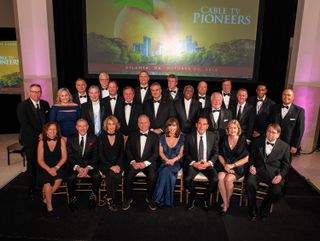 Cable TV Pioneers named 25 new members to be inducted into the group at a gala ceremony on Wednesday, Oct. 2, in New Orleans in conjunction with the SCTE-ISBE Cable-Tec Expo.
"This year's class includes remarkable men and women who currently contribute to the growth and innovation of the industry as well as those who served the business in the past," the group said in a release.
RELATED: Cable TV Pioneers Head West Into a New Era
From the Pioneers, here are the members of the 2019 class and their company affiliation, in alphabetical order.
Brian Bane, Comcast; Dick Beard, Ervin Construction; Thomas Cloonan, Arris; Marc Cohen, Evolution Digital; John DiCandilo, Dycom; Duane Dick, Sand Cherry Associates; Marty Dominguez, C-SPAN; Barry Elson, retired; Jim Faust, retired; John Fellet, retired; Chris Fenger, Patriot Media; Ralph Galione, Hewlett Packard Enterprise; Jean Gay, Commscope; Sandra Howe, Technetix; Ricardo La Guardia, Arris; Gary Lauder, Lauder Partners; Ed Marchetti, Comcast; Himanshu Parikh, iOPENC, LLC; Catherine Rasenberger, Rasenberger Media; Joyce Reitano-Salaj, posthumous; Matt Stanek, Charter; Tim Vaas, Cableserv; Bill Warga, Liberty Global; Tom Williams, Schurz Communications, and Melinda Witmer, Look Left Media. 
Banquet details will be published soon at cabletvpioneers.com, the group said.
To become a Cable TV Pioneer, a candidate must be nominated, have a second sponsor and have a minimum of 20 years of direct involvement in the cable industry, demonstrate leadership and progress in their positions and have contributed to their communities.
Pictured: the 2018 Cable TV Pioneers Class. Photo courtesy of Cable TV Pioneers.
The smarter way to stay on top of the multichannel video marketplace. Sign up below.
Thank you for signing up to Multichannel News. You will receive a verification email shortly.
There was a problem. Please refresh the page and try again.