BMG Settles Cox Copyright Suit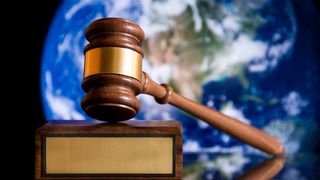 Music rights company BMG said it has won a "substantial" cash settlement from Cox Communications, stemming from a three-year-old copyright infringement suit against the cable operator, but declined to reveal the exact amount of the award.
BMG first sued Cox in 2015, claiming "contributory copyright infringement," after it claimed Cox internet customers pirated BMG songwriters' content online. BMG said although the Digital Millennium Copyright Act provides protections to companies that unknowingly enable their customers to infringe on other parties' copyrights, "they must have systems in place for copyright owners to seek the removal of infringing content or tackle infringing activity."
BMG claimed that Cox was not entitled to take the so-called "safe harbor" defense because despite knowing that several customers repeatedly violated BMG copyrights, they did not terminate their service.
A federal court judge agreed with BMG in his ruling November 2015 and the following month the rights company was awarded $25 million in damages and $8.5 million in costs. But that verdict was overturned on appeal, with the appellate court ruling that although Cox wasn't entitled to safe-harbor protection, the judge in the lower court case misdirected the jury.
BMG said in a statement: "BMG succeeded in establishing in court its central claim that an ISP needs to take specific action against subscribers it knows to be repeat copyright infringers. BMG is optimistic that this victory will persuade other U.S. ISPs to tighten up their procedures on copyright infringement. Having achieved a landmark ruling, BMG concluded that it made sense to accept a substantial settlement." 
Cox declined to comment, in keeping with the confidential nature of the agreement, but confirmed it had reached a settlement with BMG.
The smarter way to stay on top of the multichannel video marketplace. Sign up below.
Thank you for signing up to Multichannel News. You will receive a verification email shortly.
There was a problem. Please refresh the page and try again.