Study: 23% of Millennials Head OTT-Only Broadband Homes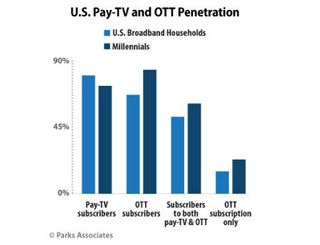 About 23% of Millennial heads of household are OTT-only homes, higher than the national average of 15% of all U.S. broadband homes, Parks Associates said in a new study released Wednesday.
But the silver lining for the pay TV industry is this -- the data also showed that 61% of Millennials subscribe to both pay TV and OTT services, also higher than the national average of 52%.
"Younger consumers are willing to subscribe to pay-TV service, provided the offerings align with their expectations," Ruby-Ren Bond, research analyst at Parks Associates said, in a statement. "In particular, Millennials show higher-than-average affinity for popular culture and premium movie channels as well as programming for younger children."
Among other findings in the study, Parks Associates said 60% of OTT video services in the North American market are subscription based, and that 64% of U.S. homes now subscribe to an OTT video service, up from 59% in 2015.
Additionally, the average monthly spend on an OTT SVOD service among U.S. broadband homes rose from $3.17 per month in 2012, to $6.19 per month in 2015.
OTT services also must stay on top of churn, as about 20% of U.S. broadband homes cancelled at least one OTT video service in 2015.
Among individual services, 5% of U.S. broadband homes cancelled Netflix in 2015.
Roughly 14% of U.S. broadband homes subscribe to Hulu, with 7% cancelling service during 2015, about the same churn rate from the research firm's Q2 2015 data analysis.
Almost a quarter (24%) of U.S. broadband homes get a video subscription service via Amazon.
Parks Associates based its latest quarterly findings on a survey of 10,000 broadband households fielded in March 2016.
The smarter way to stay on top of the multichannel video marketplace. Sign up below.
Thank you for signing up to Multichannel News. You will receive a verification email shortly.
There was a problem. Please refresh the page and try again.