Some 10 O'Clock Show Reviews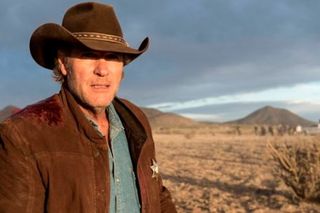 A few previews of shows I recommend early on this week:
Longmire, A&E, series 3 premiere, Monday, June 2, at 10 p.m. This show does well with season premieres – the season 2 opener, in which Sheriff Walt Longmire (Robert Taylor) stalked an escaped killer on foot up a mountainside in the snow, was especially memorable. Season 3's opener starts off quiet, for a few seconds, then revs up in a hurry. Walt displays MacGyver-like skill trying to help wounded deputy Branch Connally, who was last seen bleeding on a Wyoming hillside, on the cellphone calling Walt for help. Taylor's strong, silent-type acting and the intersection of white Western and Indian cultures are the highlights of this series, along with the landscapes and an ace cast that also includes Katee Sackhoff (Deputy Vic Moretti), Lou Diamond Phillips (Henry Standing Bear) and Cassidy Freeman. Freeman, who plays Longmire's daughter Cady, looks to have a (welcome) bigger role this season as she and Walt defend Henry against charges he killed the man who murdered Walt's wife, way back before season 1 began. This episode I'd characterize as a good Walt and Branch one, a nice change from their antagonism of seasons past. And maybe even a breakthrough between Walt and his reservation counterpart, Officer Mathias (Zach McClarnon). Let's face it, with Henry locked up, Walt's going to need all the help he can get.
Cry Wolfe, Investigation Discovery, series premiere, Tuesday, June 3, at 10 p.m., with back to back episodes. This engaging new show stars Boston-accented Los Angeles P.I. Brian Wolfe and his investigative assistant, Janine McCarthy (pronounced "McCaahthy"), as they act out dramatized versions of field work from Wolfe's case files. I stress dramatized and act out because, at least in the review disk, it wasn't clear to me that the cameras weren't following Wolfe around during the actual course of his business, which in the first two episodes are investigating suspected cheating spouses. Wolfe comes across as a nice guy, uncynical and sincere when he says things like "hopefully, Todd's not cheating." Viewers should stay open to all possible outcomes, too.
Fargo, FX, episode 8, Tuesday, June 3, at 10 p.m. If there's a better new TV drama this season, I haven't seen it. It has the spirit of the Coen brothers' movie and almost, almost makes you believe the claim that it's a true story, except it's too funny, sad and sometimes shocking to be true. The acting is terrific all around, especially Allison Tolman as Deputy Molly Solverson (roughly the Frances McDormand role in the movie) and Martin Freeman as Lester Nygaard (roughly the William H. Macy character) but all down the line, including two guests, Key and Peele's Keegan-Michael Key and Jordan Peele as FBI agents Bill Budge and Webb Pepper. From each installment's first minute, you know you're watching a new movie, and this episode is probably the most satisfying one yet. Go ahead, start now if you haven't already.
Longmire photo of Robert Taylor by Cathy Kanavy, copyright 2012, A+E Networks.
The smarter way to stay on top of the multichannel video marketplace. Sign up below.
Kent has been a journalist, writer and editor at Multichannel News since 1994 and with Broadcasting+Cable since 2010. He is a good point of contact for anything editorial at the publications and for Nexttv.com. Before joining Multichannel News he had been a newspaper reporter with publications including The Washington Times, The Poughkeepsie (N.Y.) Journal and North County News.