Behind the Return of 'Punkin Chunkin'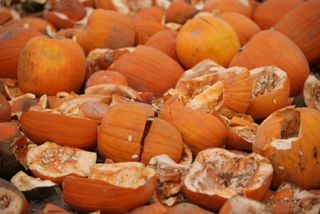 There were lots of important-sounding initiatives mentioned at the Discovery Communications upfront. Documentaries about planetary missions. Specials about audio pollution in the oceans, water use and wildlife conservation.
What caught my attention? Science Channel is bringing back Punkin Chunkin after a three-year hiatus.
Marc Etkind became general manager of the channel in October 2015. He says he's always felt the autumn special – covering a Delaware event that's all about propelling pumpkins a long way using homemade contraptions – epitomizes backyard and everyday science. Engineering teams compete in a variety of technology (cannon, catapult, trebuchet, etc.) and age categories. The overall distance record, by adults using air (cannon), is 4,964.68 feet, set in 2013.
"When I took over the network, one of the first things I said was, 'I want Punkin Chunkin back,'" Etkind told me. He said he wasn't sure why the special came off the channel's fall calendar after airing between 2008 and 2013. It certainly wasn't a problem regaining the rights to cover the event, he said.
Science Channel will return to the field with more coverage than before: three hours instead of two, with more pre- and post-event close-up coverage of the participating teams.
Expect more drone views of the field, Etkind said. Since 2013, camera technology has improved, too. "We'll be able to put cameras on the pumpkins in ways we haven't done before," the GM added.
Other than that tidbit, Etkind said production details still need working out.
Science had its best primetime year in 2015 and says its first quarter of 2016 was its best quarter ever in terms of L3 viewing in a variety of key demographics. Etkind also is trying to draw a younger audience, the channel notes.
Etkind also recommended the Punkin Chunkin championships as a live in-person event. (Science Channel airs its coverage as a special soon after the event takes place.)
"How often do you get to go and cheer on engineers?"
The smarter way to stay on top of the multichannel video marketplace. Sign up below.
Kent has been a journalist, writer and editor at Multichannel News since 1994 and with Broadcasting+Cable since 2010. He is a good point of contact for anything editorial at the publications and for Nexttv.com. Before joining Multichannel News he had been a newspaper reporter with publications including The Washington Times, The Poughkeepsie (N.Y.) Journal and North County News.