'Red Road' Returns: Is a Casino Inevitable?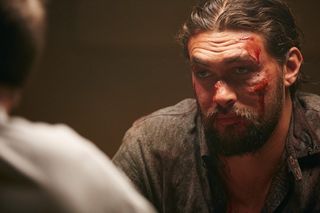 Season one of The Red Road on SundanceTV was a murky crime and cultural stew set in the mountains of northern New Jersey, where a Lenape Indian tribe and rural New Jerseyans co-exist uneasily. It introduced Jason Momoa as the dynamic anti-hero Philip Kopus, a repeat offender with an honor code (frequently broken, as in when he kills his best friend) but whose disadvantages include having a depraved criminal father, currently incarcerated, played by Tom Sizemore. The other principals are local police officer Harold Jensen (Martin Henderson), who somehow survived his encounters with the Kopuses in season one, and his wife, Jean (Julianne Nicholson), who learned in season one that she suffers from schizophrenia. Meanwhile, the hills where the local Native American tribe lives (including Kopus, whose mother, played by Tamara Tunie, is a tribe leader) are polluted and the newly-recognized tribe might or might not want to bring in a casino.
That's a brief recap that leaves out a lot but it sets the stage for some interesting developments in season two. Most of the characters are back: even Tamara Tunie's character, Marie, is in remission from her cancer. (Six questions with Law & Order SVU vet Tamara Tunie here.) Philip Kopus is out of jail, with an ankle monitor, and keeping a relatively low profile. He does have some guilt issues, though, and not a lot of luck on his side. Harold Jensen, by contrast, seems to be riding his luck pretty well, including on the job, despite the many corners he has had to cut. Many of them in season one were to protect Jean, and her story in these new episodes offer an interesting exploration of her condition, and whether or not non-traditional approaches might help.
Season two of The Red Road has more of a grown-up feel than the anxious first season, with more time to explore the individual characters when they are not under constant stress. There is a murder in episode one, though, and no doubt there will be more than enough danger ahead. Wes Studi joins the cast as pro-casino tribal chief Levi.
Photo, of slightly bloodied Philip Kopus (Jason Momoa), from SundanceTV by Quantrell D. Colbert.
Kent has been a journalist, writer and editor at Multichannel News since 1994 and with Broadcasting+Cable since 2010. He is a good point of contact for anything editorial at the publications and for Nexttv.com. Before joining Multichannel News he had been a newspaper reporter with publications including The Washington Times, The Poughkeepsie (N.Y.) Journal and North County News.
The smarter way to stay on top of the multichannel video marketplace. Sign up below.
Thank you for signing up to Multichannel News. You will receive a verification email shortly.
There was a problem. Please refresh the page and try again.