Objects of Desire in 'Building Star Trek'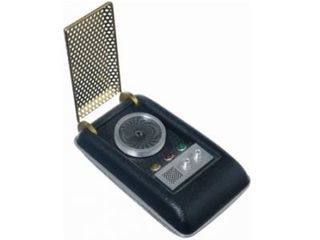 At lunch the other day a Star Trek fan around my age admired the cool ad in our magazine for the upcoming Building Star Trek special on Smithsonian Channel. All it takes is a photo of a spiffed-up original-model starship Enterprise (I used to have one hanging from my bedroom ceiling) to revive the desire for a phaser, a tricorder or, especially, a clicking communicator (pictured) one felt back in the day. This two-hour special has a lot of that sort of object envy, including by curators at the Smithsonian's National Air and Space Museum and at the EMP Museum in Seattle. The special goes close up on the former museum's restoration of the original eight-foot-long U.S.S. Enterprise model, the one used in the 1966-69, three-season series: the 50th anniversary of the premiere is this coming Thursday (Sept. 8) and the aging model was earmarked to hang in Air and Space's front hall, along with Charles Lindbergh's Spirit of St. Louis, the original lunar lander and other pioneering craft. EMP Museum went after other original set pieces, including Captain Kirk's command chair, Ensign Chekov's navigation console from the Enterprise bridge and the aforementioned handheld devices. Make sure to hang on until the big reveals. Also, as my lunch compadre noted, the special touches on the Cold War analogues in the series and important characters and cast members such as Nichelle Nichols as Lt. Uhura, an African-American woman who was a key member of the crew, an unusual role on television in the 1960s.
The show -- while doing its part to promote the latest movie in the series, Star Trek Beyond -- delves into much trivia about the original series and explores the possibilities of faster than light "warp" engines; tractor beams to grab and move distant objects in space; cloaking devices that can make starships invisible and other concepts that might or might not ever become reality. "Science fiction inspires scientists to invent what they see in science fiction," as EMP Museum curator Brooks Peck notes. There's science here but mostly it's for fun.
Bonus link: this Smithsonian Magazineoral history of Star Trek is a must read for serious fans.
Building Star Trek premieres on Smithsonian Channel on Sunday, Sept. 4, at 8 p.m. ET/PT.
Kent has been a journalist, writer and editor at Multichannel News since 1994 and with Broadcasting+Cable since 2010. He is a good point of contact for anything editorial at the publications and for Nexttv.com. Before joining Multichannel News he had been a newspaper reporter with publications including The Washington Times, The Poughkeepsie (N.Y.) Journal and North County News.
The smarter way to stay on top of the multichannel video marketplace. Sign up below.
Thank you for signing up to Multichannel News. You will receive a verification email shortly.
There was a problem. Please refresh the page and try again.