Bouncing Soccer Ball Stays In NBC Net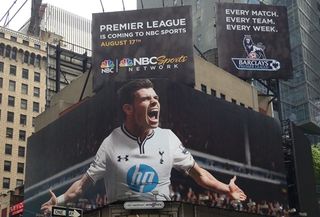 U.S. fans of England's Premier League have gotten increasingly spoiled by TV providers here. According to this recap by Worldsoccertalk.com, coverage was limited the first few seasons, then gained steam under Fox in the late 1990s, was supplemented for several years by ESPN (which excelled after initially buying a limited slate of games that had been on Setanta Sports USA) and then moved two-plus seasons ago to NBC Sports Network. The league has decided to stick with NBC Sports properties, under a six-year extension announced today. The price tag went up from NBC Sports Group's initial three-year deal, group chairman Mark Lazarus said. The current deal, now in its final season, had NBC paying $83 million per year, according to reports.
The work these programmers have put into promoting the league have helped elevate the games' value as a TV commodity -- at a time when soccer's U.S. TV fortunes are on the rise with the improvements of the USA men's and women's teams in recent FIFA World Cups. One would expect that the bidding this time around for U.S. rights to the wealthy English league were spirited. TV-sports sources indicated there were two other rivals up against NBC this time around. ESPN, interestingly, did not bid. A bit of a surprise, given their executives' interest in the product, their openly expressed disappointment at losing FIFA World Cup rights to Fox (English language) and NBC (Spanish) and their network's recent not-so-hot streak that helped spark a big selloff of media stocks last week. ESPN would not comment but a source said the league would not entertain bids placed jointly by more than one media organization, and ESPN did not have the inventory to commit to showing every game due to its extensive college-football commitments. Fox did bid, according to sources, as did BeIN Sports, the Al Jazeera Media outlet that shows games here from top leagues in Spain and Italy among other soccer properties.
NBC has been a proper steward of the league, both in terms of marketing zeal (the pictured billboard from Times Square promoting the league's arrival being one example) and on-air commitment. Every league match is shown, either on TV by use of virtual overflow channels by some providers or via online streaming. NBC also imported the popular "Match of the Day" recap format from the United Kingdom and picked up (opens in new tab) the offbeat witty commentary of Roger Bennett and Michael Davies -- the Men In Blazers -- a program that originated on ESPN. NBC's Lazarus told reporters on a call that "our marketing and promotion and that we have emphasized all 20 teams, and that we are not just taking the top three or four" helped impress the Premier League overseers. "We are showing that this is a league of 20 teams and that they all have a chance to get going and that adds value to the league," he said, according to a transcript.
Lazarus said the Premier League helps establish NBCSN as "a destination for live sports," also including the National Hockey League and motor sports (including Formula 1, another weekend morning staple that NBC acquired away from Fox). He said it's growing and has a "very young audience profile, a very affluent audience profile."
I'm a Premier League fan, if you haven't already guessed. I've enjoyed each step of the league's TV progression here. I watched my first pro soccer game at the CTAM Summit in Seattle 12 years ago -- Fox invited some attendees to see Manchester United play an exhibition against Celtic (of Glasgow). I celebrated when ESPN showed its first Sunday match. And I watch Saturdays and Sundays on NBCSN, with the iPad monitoring alternate games. As a fan of the league, I think NBC's performance merited a return, and look for more and better things with this six-year extension.
That was Lazarus's message, too. "Having this now for seven more seasons, gives us the ability to continue to invest," he said. "In a three‑year cycle, the minute you sign, you sort of feel like you're running for office again. We are in office for a little while now, so we can continue to invest."
Photo credit: NBC Sports Group.
The smarter way to stay on top of the multichannel video marketplace. Sign up below.
Kent has been a journalist, writer and editor at Multichannel News since 1994 and with Broadcasting+Cable since 2010. He is a good point of contact for anything editorial at the publications and for Nexttv.com. Before joining Multichannel News he had been a newspaper reporter with publications including The Washington Times, The Poughkeepsie (N.Y.) Journal and North County News.