Sling TV Swings to 250K+ Subs: Report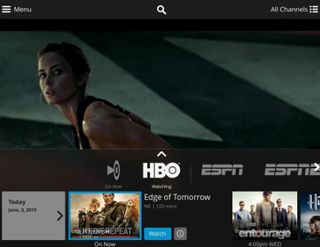 Dish Network has not revealed sub numbers for its new OTT service, Sling TV, but a report from Re/code claims that they're now in the neighborhood of 250,000.
That's paying subs – not just people who signed up for Sling TV's seven-day free ride. Based on Sling TV's core service, at $20 per month, that means the service is bringing in at least $5 million per month, and does not account for Sling TV's add-on packs and HBO subscriptions.
And if that figure, assuming it's in the ballpark (Re/code's report is based on unnamed execs said to be familiar with Sling TV's performance; Dish isn't commenting), seems to show that Sling TV's doing a decent job retaining subs. Recall that Sling TV CEO Roger Lynch told B&C prior to the service's national launch in February that hundreds of thousands of consumers had pre-registered for the service, and that few of them were existing Dish subs.
Keeping subs paying is a particular challenge for Sling TV, a service that is exposed to potentially high rates of churn. Sling TV subs can sign up and leave pretty much as they please month-to-month, though Sling TV does offer device bundles (with Roku, Amazon and Google) that require three-month paid commitments.
As for the kind of consumers who are attracted to Sling TV, Lynch told us in April (subscription required) that it's the anticipated mix of cord-cutters and consumers who had never taken a pay TV service, as well as "supplementers" who have a pay TV service but buy Sling TV on top.
And we'll have to see if how Sling TV reacts to sub growth down the road, or if it finds itself in a position where it'll have to keep that in check. Sling TV hasn't revealed such specifics about sub caps associated with its distribution deals, but recall that, last year, Time Warner Inc. chairman and CEO Jeff Bewkes hinted that the OTT service would be limited to 2 to 5 million subs. More recently, Discovery CEO David Zaslav put it at 2 million when the topic came up an investor conference.
Either way, it appears that Sling TV will need to be careful to grow too big too fast, but it still has a bit of headroom with which to work. In the meantime, it's starting to introduce some Spanish-language packages that don't require subs to take Sling TV's core $20 per month service.
The smarter way to stay on top of the multichannel video marketplace. Sign up below.
Thank you for signing up to Multichannel News. You will receive a verification email shortly.
There was a problem. Please refresh the page and try again.