Sling TV Pulls Support for Channel Master's DVR+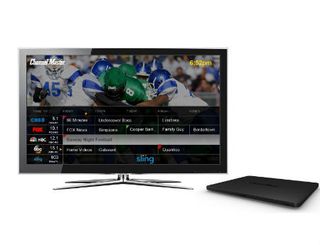 Sling TV has apparently yanked support on the Channel Master DVR+, a device for cord-cutters that integrates certain OTT content with over-the-air broadcast TV.
As reported by FreeTVBlog, Sling TV sent an alert to subscribers of the change.
"The time has come for us to bid farewell to one of our devices. Soon, Sling TV will no longer be supported on Channel Master."
The email did not elaborate on the reason, but Sling TV said it would give affected customers with $10 toward their next subscription to the OTT TV service.
Channel Master and Sling TV have been asked for more color about the decision.

Update: According to a Channel Master official, the decision to remove Sling TV from DVR+ was initiated by Dish and Sling TV, adding that Channel Master did not desire to lose Sling TV on that platform.
Sling TV has removed Channel Master from its list of compatible devices, and confirmed just moments ago that the OTT TV service is now supported on 2017 Samsung smart TVs (following the launch of Sling TV on 2016 Samsung smart TVs a few weeks ago).
Channel Master's support pages still list info on how DVR+ users can launch Sling TV, and notes here that users might need to upgrade the software if the Sling TV app is not showing up in the Channel Master UI.
The decision comes down almost two years after Channel Master announced at the 2016 CES that it would integrate Sling TV on its DVR+ platform
And it's emerging amid other product strategy shifts.
Channel Master, for instance, recently teased the coming launch of a new product called Stream+. Expected to debut next month at CES, it's been surmised that Stream+ is based on the Skipper, a 4K-capable Android TV device manufactured by Technicolor.
Dish, meanwhile, is gearing up to launch a new OTA-focused product under the AirTV brand.
ZatzNotFunny's Dave Zatz notes that the new device "is an apparent resurrection of the Slingbox M1 as an AirTV variant." The device, he says, repurposes the existing M1 streaming hardware by adding an over-the-air TV tuner, and will swap the Slingbox client with the Sling TV experience.
RELATED: Sling Media Halts Slingbox Manufacturing: Report
Dish said the new AirTV OTA solution -- a follow on to the release of the AirTV Player and AirTV Adapter introduced at CES 2017 -- is currently in limited release to evaluate consumer interest, and that more detail will be shared after the soft-launch wraps up early next year.
In the meantime, it's being billed as a "streaming base station" enabled by connecting an OTA antenna with a home WiFi network to stream local channels to TVs and mobile devices.
AFTV News also spotted an app called "AirTV: Watch Local TV Anywhere" at the Amazon Appstore (since removed) for Fire TV devices and Fire tablets, and that the app also made a brief appearance in the Apple App Store.


Update: CordCutterNews points out that a page about the new AirTV is now live.
The smarter way to stay on top of the multichannel video marketplace. Sign up below.