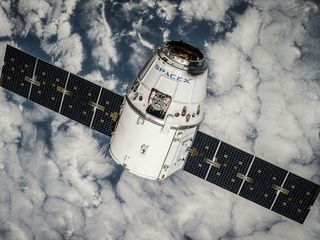 Elon Musk's Space Explorations Technologies confirmed Tuesday that it has raised $1 billion in a round led by Google and Fidelity, which have joined a group of existing investors -- Founders Fund, Draper Fisher Jurvetson, Valor Equity Partners and Capricorn.
The funding collectively gives Google and Fidelity a stake of "just under" 10% in SpaceX, and will be used "to support continued innovation in the areas of space transport, reusability and satellite manufacturing," SpaceX said.
But the expectation is that Google is plowing cash into SpaceX to help it move forward with a vision to expand Internet connectivity to areas of the globe that don't have access.
Google's interest in satellite-delivered broadband isn't new. The Wall Street Journal reported last June that Google was looking to shell out more than $1 billion on a fleet of low-earth orbit (LEO) satellites. The paper noted that the whole idea was "in flux," though it did remind us of the old Teledesic project.
As The Washington Post points out, this tweet from Musk in November 2014 hinted at what's in the works: "SpaceX is still in the early stages of developing advanced micro-satellites operating in large formations. Announcement in 2 to 3 months," he noted.
Google's interest in making Internet access available to all corners of the globe isn't just about satellite.
There's also Project Loon, a Google-led initiative that aims provide 3G-like speeds via an array of solar-powered balloons. Last April, Google bought Titan Aereospace, a developer of high-altitude, solar-powered drones that, it's speculated, could be used to provide Internet connectivity to remote areas, or play a role at the Google Earth and Google Maps projects.
Meanwhile, Google Fiber's still mulling a decision on which markets are tagged for an expansion that could reach another nine metro markets.
But, given these latest high-flying maneuvers, it's crystal clear that Google's Internet ambitions are far from land-locked.
The smarter way to stay on top of the multichannel video marketplace. Sign up below.