Google Places Bet On Drones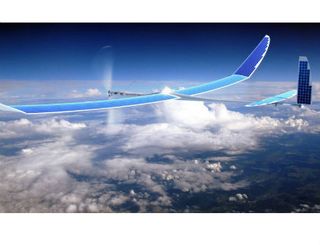 Drone maker Titan Aereospace reportedly flirted with Facebook, but ended up tying the knot with Google.
Titan Aereospace, the New Mexico-based developer of high-altitude, solar-powered drones, confirmed Monday on its Web site that it has been acquired by Google.
But how Google might use those drones appears to be (ahem) a little bit up in the air.
"It's still early days for the technology we're developing, and there are a lot of ways that we think we could help people, whether it's providing internet connections in remote areas or helping monitor environmental damages like oil spills and deforestation," the drone-maker explained.
While it's not clear precisely how drones will play a role at Google (some reports suggest that Google could use drones to help with its ongoing Google Earth and Google Maps projects), providing Internet connectivity in new ways to remote places has been a thing for Google lately.
Google's Project Loon initiative, for example, aims to provide 3G-like speeds via an array of solar-powered balloons. The Wall Street Journal said the Titan Aereospace team will work closely with the Project Loon people, so it's likely that Google will look at multiple ways to deliver airborne Internet connectivity. .
Meanwhile, Facebook's recently formed Connectivity Lab team is looking to provide Internet connectivity in varying population densities through via drones and low-earth orbit satellites armed with lasers (free-space optics). And even though Google came away with Titan Aereospace, Facebook still has its mitts on some important drone tech thanks to its recent acquisition of Ascenta, a U.K.-based developer of high-altitude, long-endurance aircraft.
The smarter way to stay on top of the multichannel video marketplace. Sign up below.