Google High On Satellite Broadband?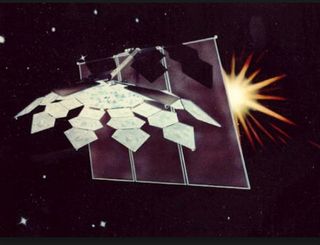 Google, following up on plans to bring Internet access to the globe via drone and high-altitude balloons, is looking to shell out more than $1 billion on a fleet of low-earth orbit (LEO) satellites, according to The Wall Street Journal.
In a move that summons memories of failed LEO wannabe Teledesic (a design for one of its broadband birds is shown here), Google's project is initially targeting a fleet of 180 high-capacity satellites that could later expand, the paper added, with the huge caveat that details around the initiative "remain in flux." What's apparently not in flux is that Google has tapped Greg Wyler, the founder of satellite broadband company O3b Network (Google and Liberty Global are among its investors), to head up the Google's new high-flying venture.
In February, it was reported that a Google subsidiary called Planetary Ventures plans to lease the massive 350,000-squre foot Hangar One facility at Moffett Federal Airfield in California for the development of a range of projects, including those tied to space and aviation.
Google is shelling out some bucks on the ground with its Google Fiber effort, which is threatening to expand to 34 markets, but this satellite initiative is reportedly about extending Internet access to populations that can't get it today.
And if it comes to fruition, Google's satellite play would sync up with other, similar projects. In April, Google snapped up Titan Aereospace, the New Mexico-based developer of high-altitude, solar-powered drones that might be used to provide Internet connectivity to remote areas, or play a role at the Google Earth and Google Maps projects.
Google has also booted up Project Loon, an initiative that aims provide 3G-like speeds via an array of solar-powered balloons.
Google isn't alone in its desire to bring broadband to all. Facebook's recently formed Connectivity Lab team is also eyeing projects that would provide Internet connectivity in varying population densities using drones and low-earth orbit satellites armed with laser-fed, free-space optics technology.
The smarter way to stay on top of the multichannel video marketplace. Sign up below.