Charter Targets Cord-Cutters With 'Spectrum TV Stream'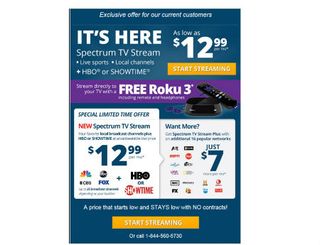 Charter Communications has been quietly testing out a subscription service called Spectrum TV Stream that's aimed at broadband-only customers, starts at $12.99 per month and bundles in a free Roku 3 streaming player.
Home Media Magazinefirst caught wind of it earlier this month, noting that the new offering features the Big 4 broadcasters, plus either the Showtime or HBO multiplex.
DSL Reports has a few more details, including the Spectrum TV Stream lineup that's being offered in Madison, Wis. There, the base lineup includes C-SPAN, HSN, INSP, QVC, W43BR (My Family TV), WBUW (The CW), WHA, PBS, Wisconsin Channel, CBS, ABC, WKOW (METV), WKOW (This TV), Fox, WMSM (Get TV), WMSN (Grit TV), AccuWeather, WMTV (Antenna TV), and NBC.
For an additional $7 per month, the Spectrum TV Stream Plus offering also includes several cable channels, including A&E, ABC Family (changing soon to Freeform), AMC, Discovery Channel, ESPN, Food Network, FX, H2, Hallmark Channel, HGTV, History, Lifetime, LMN, National Geographic, TBS and TLC.
The emergence of the new Spectrum TV Stream offering comes about the same time that Charter launched a TV Everywhere app for the Roku platform.
It's not clear if Charter is offering this new option, which seems tailored for cord-cutters, to all markets, but we've put in multiple requests with the MSO for more information about it. We'll share more detail as it becomes available.
Other MVPDs have introduced skinny bundles or new offerings that are designed for broadband-only customers. Dish Network, of course, has Sling TV, which starts at $20 per month, while Comcast has developed "Stream," a $15 per month no-contract IP video offering that features about a dozen networks, including the broadcast networks, HBO, a VOD library, and access to the MSO's Cloud DVR and certain TV Everywhere apps. Cablevision Systems, meanwhile, launched a set of cord-cutter packages, which bundle in a digital TV antenna, earlier this year.
The smarter way to stay on top of the multichannel video marketplace. Sign up below.