Canoe Floats 2.77B Ads in Q2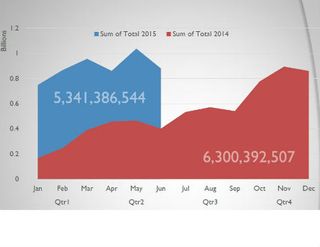 Canoe, the MSO-backed advanced ad venture, cruised to more growth in the second quarter as it handled 2.77 billion VOD advertising impressions, beating the 2.56 billion impressions it pumped out in Q1.
The bulk of those Q2 impressions (2.34 billion) were mid-rolls, versus 330.3 million pre-rolls, and 94.75 million post-rolls.
Canoe also handled 1,241 VOD ad campaigns in Q2, up from 912 in Q1 2015. Most (89%) were external client ad campaigns, spanning categories such as auto, toys, technology, pharma, hospitality, theatricals, retail, pet care, home improvement, packaged goods, healthcare and booze. The rest were network tune-in ads.
Through first half of 2015, Canoe dealt 5.34 billion ad impressions, closing in on the 6.3 billion impressions produced for all of 2014. Canoe crossed the 10 billion ad impression mark last November, a milestone that came about two years after it launched its VOD dynamic ad insertion platform.
Canoe's latest growth surge comes as its footprint that now covers 35 million-plus homes and 48 of the top 50 DMAs. Following initial rollouts with Comcast and Time Warner Cable, Canoe has also been rolled out in markets served by Cox Communications and Bright House.
Charter Communications, which is in the process of acquiring TWC and Bright House, is not currently a member of Canoe. 
Update: Chris Pizzurro, Canoe's head of product, sales and marketing, said discussions with MSOs outside the J.V. "have stepped up quite a bit" as Canoe's ad impressions continue to ram up.  He said no deals were imminent, but noted that conversations are ongoing with major and independent cable operators. 
Weekly digest of streaming and OTT industry news
Thank you for signing up to Multichannel News. You will receive a verification email shortly.
There was a problem. Please refresh the page and try again.