Sinclair Warns AT&T Customers of Looming Blackout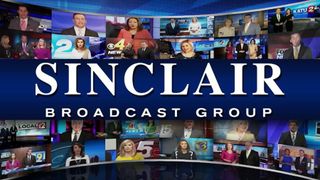 Sinclair Broadcast Group is warning AT&T customers across the country that they could lose access to 136 stations in 86 markets affiliated with the Big Four networks if their retransmission consent deal isn't renewed.
Sinclair said its original carriage deal with AT&T expired in August, but the broadcaster granted a five-week extension while talks continued. Those negotiations have apparently reached an impasse, prompting Sinclair to warn DirecTV, AT&T TV Now,and U-verse customers of the potential for a blackout. The extension will expire at 5 p.m. ET on Sept, 27, according to Sinclair.
"AT&T is the largest MVPD in the country and seems intent on using its tremendous market power to dictate to viewers which programming from other content providers they can receive, even as they continue to acquire content providers and push their own content to viewers," Sinclair SVP and general counsel David Gibber said in a press release. "Despite the tremendous market power of AT&T, most consumers of AT&T and DirecTV do have some other alternatives to receive our in-demand programming. Although it would be unfortunate to lose AT&T and DirecTV as customers, we are simply not prepared to sell our programming to them at the below market rates they are demanding due to their overwhelming market power."
Of the Sinclair stations go dark, they would be the third programmer to pull their content from AT&T in the past several months. On May 30 about 17 stations in smaller markets -- many of them managed by Sinclair -- went dark to AT&T in a retrans dispute. Last month, regional sports network Altitude Sports and Entertainment went dark to DirecTV and Comcast customers. Earlier this month The Walt Disney Co. warned AT&T customers that their networks could go dark. Those talks continue, and the channels remain available to customers.
Sinclair said it has and will continue to negotiate in good faith to reach a deal, but didn't seem overly optimistic, pointing out that AT&T has established a "pattern of insistence on terms that greatly undervalue the content of local broadcasters."
In a statement, AT&T said that Sinclair controls nearly 200 stations in 100 markets across the country, and recently spent about $10 billion buying regional sports networks and routinely threatens to pull access to those assets for one purpose: to drive up affiliate fees.
"Sinclair has made egregious demands for broad carriage and payment on one of the most expensive single-team RSNs ever with the Cubs in Chicago; for carriage of multiple cable channels that don't even exist or that Sinclair hopes to someday acquire; and for RSNs that aren't even up for renewal – just to name a few," AT&T said in a statement, adding that it will continue to negotiate in good faith with the broadcaster.
"We are on the side of customer choice and value and hope to avoid any interruption to channels some may care about," AT&T continued. "Our goal is simple – to deliver the content our customers want at a value that also makes sense to . And to enable anyone the freedom to experience favorite shows, channels and teams wherever, whenever and using whatever device they may choose."
The smarter way to stay on top of the multichannel video marketplace. Sign up below.